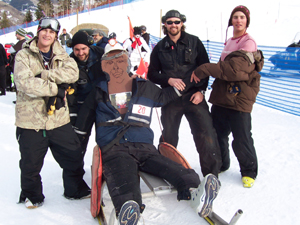 Blog Tools
Comments
PermaLink
Vail Snow Daze: Some dummy will win $1,500
By Tom Boyd
December 5, 2007 — Last weekend we saw the official, world-class, major event with international press, side of Vail and Beaver Creek.


This weekend we get to see the "dummier" side.


So maybe the Dummy Gelunde event this weekend isnít really the biggest, most impressive, headline event of the jam-packed Snow Daze weekend, but itís definitely my favorite.



Dummy Gelunde rules and regs
The second annual Dummy Gelunde World Championship will take place Saturday, Dec. 8, from 2 p.m. to 4 p.m. as part of the Vail Snow Daze celebration.

Registration is now open, and the event is filling up quickly.


Dummies are judged on air, creativity, style, takeoff and landing and crowd response. Dummy Gelunde viewing and voting will take place from 12 p.m. to 2 p.m. prior to the event.


First place winner will be awarded $1,500, second place will receive $1,000 and third place will take home $500. Additional prizes include Liberty Skis and Salomon apparel. Visit vailsnowdaze.com for more.

Iím a huge fan of Ziggy Marley , and couldnít be more psyched that Social Distortion and Ludacris are coming to Vail this weekend Ė but all of it would be for naught if there wasnít an event where people strap home-made dummies to skis and sent them rocketing to their doom down the slopes of Vail.


Plus, you can win a whole lot of money (check out the break-out box at left for all the info). Visit vailsnowdaze.com for more.


Check out a pretty good video of last year's competition at Snow Daze video.



Comment on "Vail Snow Daze: Some dummy will win $1,500" using the form below