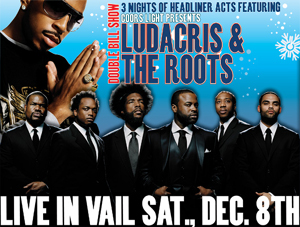 Blog Tools
Comments
PermaLink
Ludacris, Roots up next in Snow Daze lineup
By Tom Boyd
December 7, 2007 — Iím feeling a big link-happy right now, but all of the links below ought to come in handy for people in Vail this weekend for Snow Daze (and, of course, to ride the roughly two feet of powder which awaits in the high country.)


The Social Distortion show was NOT cancelled, but if you weren't able to get to the show because of bad weather, you can bring your ticket to the will call window and get a ticket to the Ludacris and The Roots show.


Speaking of bad weather, as of this post I-70 and Vail Pass are open, but click HERE to get your road report if youíre heading up this weekend.


Tonightís Snow Daze show will be Ludacris and The Roots at Ford Amphitheater. Tickets are $40, and you can learn more by visiting snowdaze.com.


The best way to move to and from Ford Amphitheater/Ford Park is via bus or taxi. Click HERE to see Vailís free bus service schedule.


And, of course, the moment Iíve been waiting for, Dummy Gelunde, the worldís most challenging and technical manikin-oriented sport. Check out highlights from last yearís events HERE


Comment on "Ludacris, Roots up next in Snow Daze lineup" using the form below