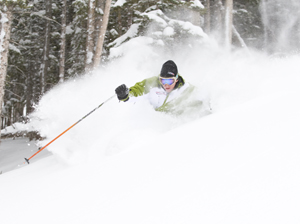 RealVail blogger Chris Anthony poaches yet another set of fresh tracks this season, this time at Beaver Creek Dec. 8 on Grouse Mountain. Iím not jealous, though Ö I was in snorkel territory over at Blue Sky Basin with nary a lift line in sight.
Photo by Jack Affleck/Vail Resorts
Blog Tools
Comments
PermaLink
Grouse Mountain opens at Beaver Creek
Untracked stashes still await in Vail
By Tom Boyd
December 9, 2007 — After staring at Grouse Mountain all weekend during the Birds of Prey World Cup, I can now finally spread the word that Beaver Creek Ski Patrol will drop the ropes on Grouse Mountain at 9 a.m. Dec. 9.


Additional trails set to open include Upper Harrier, Goshawk and Lower Peregrine.


This ups the skiing and riding at Beaver Creek to 1,007 acres and 83 trails plus nine lifts.


Snow continues to pound the valley, with 10 inches of snow reported as of 1 p.m. Dec. 8, with 18 inches falling in the past 48 hours and 36 inches falling in the past seven days.


Beginning Sunday, the Grouse Mountain Express Lift (#10) will offer expert skiing and riding in the Talons area on trails Screech Owl, Raven Ridge, Ptarmigan, Bald Eagle, Falcon Park, Osprey and Ruffed Grouse. There will be expert-only access to Grouse Mountain via the Goshawk and Lower Peregrine trails. Also, skiers and snowboarders must ride the Birds of Prey Express Lift to return to the main mountain; there will be no skiing or riding to the base of the mountain.


Vail had a tremendous number of skiers Saturday, Dec. 8, and with good reason. Snow fell like it was coming from a heavenly dump truck all through the end of the week, and ropes dropped on the Back Bowls and Blue Sky Basin.


Personally, I found the Steep and Deep section of Blue Sky to be a bit rocky still, and although thatís my favorite run on the mountain (or one of them) I did laps on skierís left, in Earlís Bowl, and found it supreme. Usually Earlís Bowl requires a bit of glade skiing to find the freshies, but to my astonishment, huge tracts of powder remained untracked when I departed from the bowl around 1 p.m. Saturday. Long and the short of it is, if you donít go poach Grouse Mountain Dec. 9, then be sure to check out Earlís Bowl.


Over and out.


Comment on "Grouse Mountain opens at Beaver Creek" using the form below