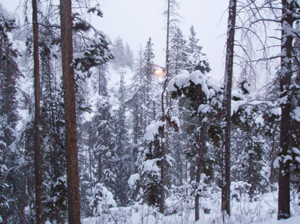 A cozy West Vail house shines its light through the forest, taken while skiing Davos Trail.
By Tom Boyd
Blog Tools
Comments
PermaLink
Davos Trail: a quick jaunt into the white
By Tom Boyd
December 11, 2007 — Snow is still falling here in Vail as we head into the fourth day (or is it the fifth) of powder, powder, and more powder.


Skiing the mountain everyday just isnít an option for most people, and frankly I like to get away from lifts and earn my turns every once in a while. When I donít have a lot of time to ski I go out onto Davos Trail in West Vail, hike as far as I can, and enjoy the slide down.


I usually use my telemark/skins combination on the trail, but skis or snowshoes arenít usually necessary on this well-used trail. Just about everyone in the neighborhood is up there some time or other, so a hike on Davos can be a bit of a social event, too.


To get there: Davos Trail is located at the end of the North Frontage Road. Take the West Vail exit off I-70, and drive west out of the roundabout on the north side of the highway. The road runs parallel to the highway for a bit and terminates with a parking lot and a sharp, right-hand turn which leads uphill to Arosa Dr.


Park at this parking area and find the trail behind the silver mailboxes. Or, alternately, drive all the way up Arosa Dr, take a left on Davos Trail, and follow the road to the top of the hill, where it terminates in a cul-de-sac. Park here (to avoid getting a ticket, be sure to be off the pavement and onto the dirt portion of the road), and then follow the road up as far as you like. This is a great trail for dogs and kids.


Read more about Davos trail, and other trails, at our trail guide by clicking here.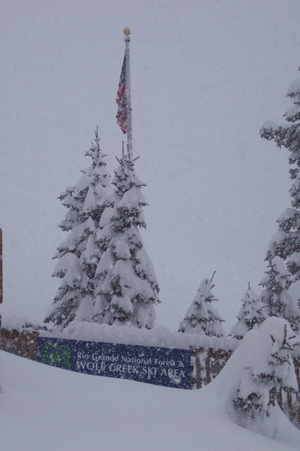 Wolf Creek, which had very limited terrain open early in the year, got more than its share of the white stuff this time around.

Wolf Creek


Loyal readers will know that Wolf Creek opened with less than 1 percent of its mountain up and functioning this year, but the latest storm cycle has absolutely pounded the Southwestern Colorado resort.


Wolf Creek is reporting 126 inches at the summit and 106 at the midway point.

Here's some more info:
24 Hour Snow Fall Total: 23 inches
48 Hour Snow Fall Total: 31 inches
72 Hour Snow Fall Total: 56 inches
Latest Storm Total: 32 inches
Year to Date Snow Fall Total: 169 inches


Comment on "Davos Trail: a quick jaunt into the white" using the form below