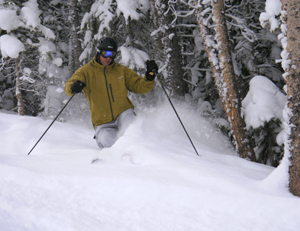 A skier makes his way down Bald Eagle at Beaver Creek Wednesday, Dec. 12. Beaver Creek is opening Larkspur bowl Saturday, Dec. 15.
Courtesy Beaver Creek Resort
Blog Tools
Comments
PermaLink
Larkspur Bowl opens Saturday at the Beav'
By Tom Boyd
December 14, 2007 — I have a heavy heart today, for somewhere out in my yard, a teddy bear is missing in action, ensconced in a tomb of snow.


Dragged into the yard during a snowstorm some weeks ago, the teddy was a mere plaything of a few heartless Labrador retrievers who dragged him from his Playtime Palace and used him in a brutal game of tug-of-war. He was soon forgotten (by both beast and man), and now he's out there somewhere, soggy, and sorely missed only by my sweet little niece.


We shall not see him again until spring.


On the upside, however, ever since World Cup skiing began in Beaver Creek Nov. 29, snow has come almost every day, giving Beaver Creek a 31-inch base plus the few inches which will probably accumulate overnight.

Which means Larkspur Bowl will be that much better when it opens tomorrow at 8:30 a.m.
Additional trails set to open tomorrow include Red Tail, Dally and Arrowhead's Cresta run. Beaver Creek will offer village-to-village skiing and riding between Beaver Creek, Bachelor Gulch and Arrowhead on more than 1,400 acres served by 14 lifts.


Trails set to open in Larkspur Bowl include Loco, Shooting Star, Lupine, Larkspur, Yarrow and Three Tree Gully.


Beaver Creek Landing is also expected to open over the weekend, providing an alternative entry to the main mountain for guests staying outside of Beaver Creek.


Yes, you read correctly: Larkspur opens at 8:30 a.m.. The lifts at Vail and Beaver Creek are now opening at 8:30, giving early risers the opportunity to catch the first round of chairs and, thankfully, help remove that heavy layer of ice and snow which accumulates there overnight so that by the time I get up there I have a nice, warm seat.


Yes, despite a pretty good run early in the season, first chair will escape my clutches this time around as I intend on spending some time with my niece's father (a.k.a. my brother) and his wife. The time for holiday parties has arrived, and we all must balance between how much we imbibe at night and how much powder we inhale in the morning.


In between all this, of course, we must remember to pick up a new teddy for under the Christmas tree and, this time, keep him from becoming another victim of the canine bite.


Comment on "Larkspur Bowl opens Saturday at the Beav'" using the form below