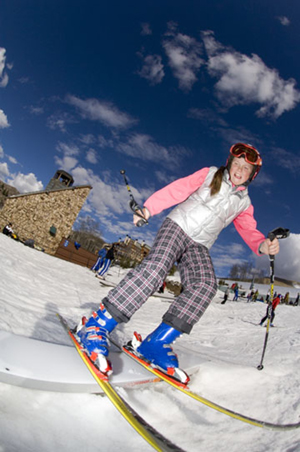 Riding rails in the daytime is one of the many activities planned for the holidays in Beaver Creek this year.
Photo courtesy Jack Affleck/Vail Resorts
Blog Tools
Comments
PermaLink
Family takes the spotlight at BC for the holidays
By Tom Boyd
December 20, 2007 — Now that my family is full of nieces and nephews I've come to appreciate all the kid-friendly activities available in town. Beaver Creek has an especially interesting line-up this year, so without further ado here goes:
From Dec. 20- 24, Santa Claus and his elves will be stopping by the Beaver Creek plaza to spread cheer and listen to children's Christmas wishes daily from 3:00p.m.- 6:00p.m. Free for all ages.
Live music happens on the Beaver Creek Plaza every Friday though Tuesday at the gazebo on the west end of the plaza from 3-5 p.m.

Western characters do a children's storytelling for BC ski school as part of the Family Adventure Program.
Monday nights are Family Night at the Fire Pits. Storytellers and musicians entertain and inform guests with local information about this week's happenings, tales of local lore, fractured tales of the Old West, and campfire songs. It is free for all ages and takes place at the new outdoor fire pits on Beaver Creek Plaza.
Sunday nights get groovy with at the Black Family Ice Rink with the Disco Ice-Skating Party. There will be a live DJ/Master of Ceremonies spinning tunes and implementing games and contests. The weekly dance party is free for all ages and begins Dec. 23.
Grab your camera and skate your way to the Beaver Creek Figure Skating Series. The skating series will feature local and regional amateur skaters. The performances are fully sanctioned USFSA performances and throughout the shows an emcee will introduce the skaters with competitive history information. The series begins Dec. 26 and is free for all ages.
A Rail Jam Series and Thursday Nights Lights glowstick ski down is presented each Thursday throughout the winter. Kids can practice sliding rails in a supervised setting from 4-5:30 p.m. in front of the Beaver Creek Children's Ski and Snowboard School. A free, glow stick ski-down and fireworks display follows. Participants must be level 5 skiers or above. Children aged 13 and under must be accompanied by an adult. Sign-up begins at 5:30 p.m. at the Children's Ski and Snowboard School. Guests can board the new Buckaroo Express Lift beginning at 6:00 p.m.
So there's your update! Enjoy.

Comment on "Family takes the spotlight at BC for the holidays" using the form below