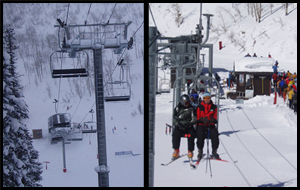 The new Chair 10, left, is a high speed quad, replacing the old chair 10, photographed on its last day in operation last spring.
By Tom Boyd
Blog Tools
Comments
PermaLink
A toast to the new Chair 10
By Tom Boyd
December 28, 2007 — ĎTwas only a few short years ago when I wrote a passionate treatise on our beloved old Chair 10, wherein I espoused the heartbreaking valor of the old two-seater chair. I cried out in revolutionary vigor, beseeching the powers-that-be at Vail Resorts to leave our old bump-run beauty in place, thereby leaving us one, small, kingdom of quietude in the otherwise high-speed mess of masses which populate the rest of Vail Mountain.


Well, that was a lot of horse puckey. I rode Chair 10 on its final day last year, and I rode the new Chair 10 just recently, and I can tell you that the new chair is nothing but a VAST improvement on the old two seater which I once loved so dear.


Sure, Iíll miss the old days. But what good are the old days if you donít miss Ďem!


The new days are here, and I couldnít be happier. The new Chair 10 makes for a quick route all the way up to teacup bowl. Itís my new favorite way up the mountain, and since itís as-of-yet undiscovered, itís crowd-free and efficient.


Which means Iím into the Back Bowls, and FARTHER into the Back Bowls, FASTER.


And Iíve got no problem with that!


So goodbye old Chair 10, we loved you so. Itís just that we love the new Chair 10 a little bit more.




Comment on "A toast to the new Chair 10" using the form below