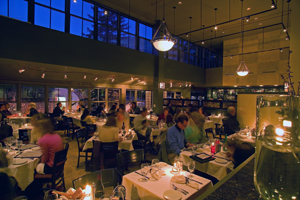 Terra Bistro is hosting a New Year's Eve gala which should satisfy even the most demanding of tastes.
Blog Tools
Comments
PermaLink
New Year's gourmet at Terra Bistro
By Tom Boyd
December 29, 2007 — If youíre like me, and planning youíre New Yearís Eve at the last second and getting nowhere, Iíve got good news: Iíve just spoken with the folks at Terra Bistro and theyíve confirmed that a few seats are still available for their New Yearís extravaganza.


The menu sounds fantastic, which is what Iíd expect from chef Kevin Nelson and the folks at the Bistro. The steak tartare, wild sea bass, organic chicken, and glazed Ahi are all looking up my alley, but there are is a lot more where that came from. Check out the menu by clicking here.


There are two seatings: First Seating is from 5:30-6:30 p.m., involves a 3-course menu and is $75 per adult and $45 per child (under 14 yrs old). This one works out nicely if youíve got a party to attend later in the evening.


The second seating is from 8:30-10:30 p.m., is six courses, and comes with a champagne toast at midnight. The cost is $195 per person and children are full price.


Contact Terra Bistro at (970) 476-6836.



Comment on "New Year's gourmet at Terra Bistro" using the form below