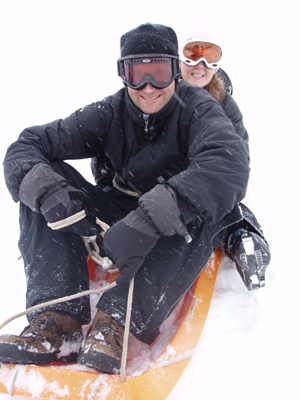 Blog Tools
Comments
PermaLink
If the weather outside is frightful, sledding can be delightful
By Tom Boyd
December 30, 2007 — Not every day is a ski day. Some days it's nice to get out and try something else: sledding.


Meadow Mountain is the sledding capital of Eagle County. The "Tubing Hill" boasts a surface lift which pulls tubers to the top of the hill, plus soup, hot dogs, coffee and hot chocolate to stay warm on cold days. Located at I-70 and the Minturn exit, the sledding hill is open 7 days a week from 9 a.m. to 5 p.m. and costs $16 per hour. Call (970) 827-4155 for information.

In former years, sledding on Meadow Mountain was free and attracted big crowds during the holidays. Yet with so many people slipping, flipping, and sliding all over the hill, Forest Service officials deemed the activity too dangerous. In the great American name of safety, the sledding hill became a sanctioned, safe, and $16 per-hour mini-biz.


Enjoy it if you like, but there's no way I'm paying for sledding. With a bit of snowshoeing my gang of rebel sledders and I went to a spot not-so-distant from Meadow Mountain and we got our sled on in a big way – for free.


While winds howled away atop Vail Mountain, closing lifts in Blue Sky Basin and elsewhere, we were relatively warm and happy lolling in the snow.


And when we were done, we were minutes away from a cup of hot cocoa back at the homestead.



2 Comments on "If the weather outside is frightful, sledding can be delightful"