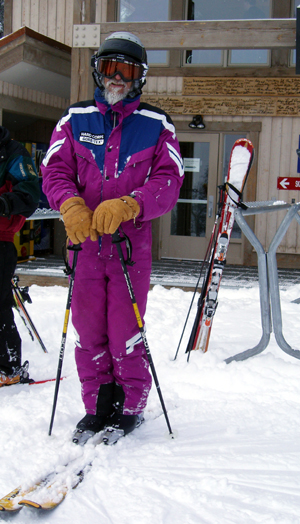 Blog Tools
Comments
PermaLink
Welcome to the Jungle
By Tom Boyd
January 8, 2008 — There are a handful of people who make this town what it is. The rest of us just live here.


Jungle is one of those people.


The name's a good start: Jungle.


Then there's the "get-up." Meaning, the last time I skied with Jungle he pronounced that he wasn't going to buy new boots until "Look" got back into the business.

The purple one piece, the helmet (very modern), and the leather work gloves … what room is there for improvement?


Not only is Jungle my go-to guy for on-the-mountain fashion, but he's also a hell of a mechanic. Since long before I could legally drive, Jungle's business has been fixing up all the Boyd family vehicles, keeping us on the road and taking care of us in a fix.


And so in this quickie blog I give a tip of my hat to Jungle, and all the others out there who add a little spirit to the town.


Comment on "Welcome to the Jungle" using the form below