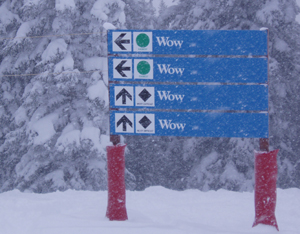 Maybe the snow was blurring my eyes, but all the signs on the mountain today seemed to say the same thing.
Photo illustration by Tom Boyd
Blog Tools
Comments
PermaLink
Superlatives aren't enough to describe current snow conditions
By Tom Boyd
January 11, 2008 — As my compadre David O. wrote recently, the term "epic" is often overused by those who wish to convey, through words, how great of a day they've had up on the mountain.


So how about this: the skiing right now is incrediblatious.


Now, the term incrediblatious isn't overused, but it's also not a word. And since words cannot aptly describe the awesomeness of the skiing right now, using non-words is the next best thing.

Day after day of powder has fallen, covering yesterday's tracks like reporters on old news. My personal favorite run was a rip-roaring, no-brakes tear session down Forever. I followed up a double-dose of Forever with a trip down Wow, and found the top to be a bit bumpy but still nice, while the bottom of the run was a wide-open, nearly-trackless field awaiting a good romping.


This weekend ought to see huge numbers of people up on the hill, and I have little doubt that what remains untracked now will be pillaged by the weekend's end, but at least those who have yet to sample the bountiful goods up here will have their shot this weekend. It's time we locals share a bit of this cornucopia with the weekend warriors.


I'll be up there on my sneak route, skipping past the big lines, so if I see ya up there this weekend I hope it's in one of those few, unpopulated areas of the mountain. In the meantime, enjoy. It'd be hard not to.


2 Comments on "Superlatives aren't enough to describe current snow conditions"