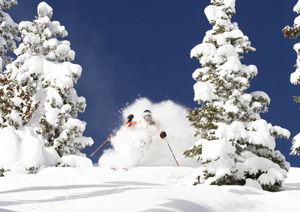 I'll be honest – it's not exactly like this out there anymore, but it's still very, very good. It seems yet ANOTHER storm system is coming our way and could put conditions back to where they've been most of this season; i.e. excellent.
Photo of Vail Jan..12 by Jack Affleck/Vail Resorts
Blog Tools
Comments
PermaLink
The route is everything
Despite the guilt, today proved a beautiful day at Vail
By Tom Boyd
January 13, 2008 — When one man goes down, the others must carry on.


While my RealVail comrade, David "Oh-my-god-I-don't-have-an-ACL" Williams, explored the "knee ligament" chapter of Gray's Anatomy, my wife and I were tracking run after run after run in today's soft – though no longer superlative – snow.


With me I carried my backpack, a few snacks, and a whole lotta guilt, because while I was lapping it up, lap after lap, David O. was imprisoned in his own home like a ski country P.O.W. (Prisoner of Winter).

But I know how he feels, because I myself have been down the road of twisted knees, pain killers, knee braces, boring and difficult physical therapy. And while I was on injured reserve I knew that the game must go on, and skiers must ski, and riders must ride – and if they're going to be up there I wanted them to enjoy it, even if I couldn't.


AND WE DID! Sorry Dave-o, but the truth is, today was probably my most enjoyable day of the year, not necessarily because the snow was the best (last Friday takes that award), but because we skied hard all day.


We also chose the perfect routes.


As is my habit now, we opened with a chair 6-10-14 opener, followed by a trip to Mongolia Bowl. Chair 22 was closed, my guess is because of the skier death in East Vail chutes yesterday, but we traversed out into the deep stuff and were quickly up to our waist in powder. We followed up with a few Blue Sky runs, and then a reverse traverse over to Forever and a wild, deep-deep run down WFO. There was a bit more in there somewhere, but I remember ending it all with a trip down Prima.


We were a little slow on the uptake this morning (read blog below), but after one extra cup of coffee we made it out the door – and couldn't have been happier that we did.


And now my next move: to drown that guilt in après libations…


Comment on "The route is everything" using the form below