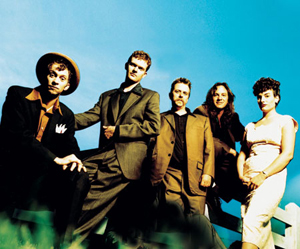 Squirrel Nut Zippers play at Check Point Charlie in the Vail Village tonight at 6 p.m. Parking at the Vail Parking Structure is free, as is admission to the show. On top of that there will also be an opportunity to register for a Volvo C30.
Blog Tools
Comments
PermaLink
See a show, win a car (again)
By Tom Boyd
January 16, 2008 — No offense to my current vehicle (a 4WD truck), but I really, really, really want to win that 2008 Volvo C30 tonight at the Bud Light Street Beat concert.


If I don't, at least I can see Squirrel Nut Zippers get into swing during their concert, which gets under way tonight at the Check Point Charlie outdoor concert venue at 6 p.m.


Squirrel Nut Zippers have a really cool swing-band thing going on. They're one of those bands that you just can't help dancing to, though it helps to have a swing partner along to help you do that ragtime thing.


They're not purist 20s and 30s ragtime/swing, but it's a modernized version of the same thing. One way or the other, check out these vids and see for yourself what they're about. Or, if you'd rather, just come see them live tonight in Vail.


Comment on "See a show, win a car (again)" using the form below