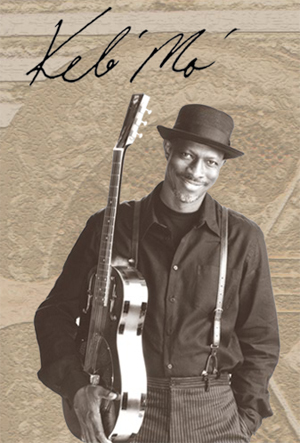 Keb Mo is playing the Vilar Center Jan. 23-24, at 7:30 p.m. both nights. Parking is available at the base of Beaver Creek or at the Village Hall parking structure adjacent to the Vilar Center.
Blog Tools
Comments
PermaLink
Keb Mo is a-comin' to town
By Tom Boyd
January 17, 2008 — I used to go on these long drives down from the mountains, through the canyon by the river, leaving my family and heading off toward school. On my way Iíd roll the windows down and turn the music up as loud as my underpowered stereo would allow, and every time that music would be Keb Mo.


And now heís coming to the Vilar Center in Beaver Creek for two nights, Jan. 23 and 24 at 7:30 p.m., and I just canít wait for those nights to come.


Mo started out as a jazz man, a master of the complexities of key changes, rhythm changes, all the many intricacies of the jazz form. When he put together a simpler, soulful, blues album, his popularity soared. It seemed a natural fit.

To me there is something in his voice, a tone of sympathy and humility, which makes him the ideal blues man. And unlike other blues players, Mo isnít content to mimic the old blues patterns. Instead, he integrates his jazz background into the blues. Somehow, he plays a form which is true to the old spirit of the old players, those like Muddy Waters and T-Bone Walker, yet which also expands the typical 1-4-5 patterns into much more complex mosaics, much more interesting creations. Despite the "music theory" behind his arrangements, however, he does the difficult thing: he simply sounds good.


For tickets and more information, visit vilarpac.org.


Comment on "Keb Mo is a-comin' to town" using the form below