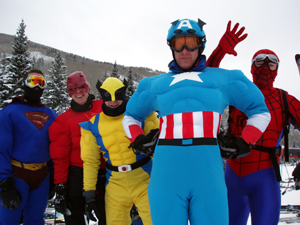 Taking a break from the rigors of saving the world: Spiderman - Dave Wright; Wolverine - Justin Hampton; Captain America - Phil Window; Dare Devil - James Reid; Super Man - Anthony Holland
Blog Tools
Comments
PermaLink
Superhero convention at Beaver Creek
By Tom Boyd
January 20, 2008 — Every once in a while, superheroes need to get together, talk about their work, figure out who's saving who, and how.


In 2008, the annual Superhero Congress and Convention came to Beaver Creek, where everyone from Spiderman to Wolverine analyzed the past year in superhero action, and took a look at the year ahead. From superhero economics (a lecture from Captain America), to the ins-and-outs of suit maintenance (presided over by Superman), superheroes made the most of their time at this year's convention.


In between grueling, 8-hour sessions on the ethics of mutant life in a human world, the superheroes took some time to get out on the mountain and ski + snowboard.


The identities of these icons was revealed shortly after lunch – and imagine how surprised I was to find that Captain America was British! Who knew! Phil Window, James Reid, Anthony Holland, Dave Wright, and Justin Hampton were the men behind the masks, and every one of them was a Brit!

OK, the truth is I happened to run into these guys while I was skiing Grouse Mountain at Beaver Creek. I was cruising along and there, all of a sudden, was spiderman. He was quickly joined by his cronies and I snapped this shot quickly before heading out for another run.


The gang was also supporting a website called www.elktours.co.uk, where they've collected a few more photos of their good times up on the mountain.


The snow is surprisingly good up on the mountain still - largely due to cold weather. Without sun to melt the snow, there is very little crust. Goshawk was in terrific shape, as was most of Rose Bowl. Only the main traffic areas were crusty, but those are easy to avoid.


So - good luck to the superhero gang as they weave their way through the complicated world of superherodom. May all your rescues go smoothly, and may your superhero suits never chafe.


Comment on "Superhero convention at Beaver Creek" using the form below