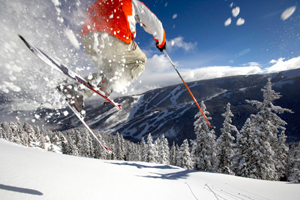 RealVail's Chris Anthony breaks into the powder at Beaver Creek Jan. 12. In the background are some of the runs involved in the Talons Challenge, which takes place at Beaver Creek this Saturday, Jan. 26.
By Jack Affleck/Vail Resorts
Blog Tools
Comments
PermaLink
Talons Challenge set for this Saturday
By Tom Boyd
January 22, 2008 — Like Pavlov's dog, who famously drooled at the sound of a bell, my legs cramp at the mention of the Talons Challenge.
Thirteen runs, one day, 23,722 vertical feet and a whole lot of black diamonds are on the docket for this Saturday, Jan. 26, at the Beav'. More than 1,000 people are expected to swarm to Beaver Creek to take on the Challenge - but only a handful of those will successfully complete the grueling task of skiing each and every run. Registration is free and each person who completes the Challenge will receive a free Talons hat, lanyard, bratwurst, beer, and a chance to win a trip to Beaver Creek's sister resort, Lech-Zurs, in Austria.
Most of the Challenge takes place on the bumps, yet some of the runs, including the World Cup Birds of Prey Downhill course, will be groomed.
That's good news to me: perhaps this will be the year that I actually complete the course. I'm hampered by my ready-made excuse: I telemark, and therefore need to be in x-tra good shape to complete the Challenge, but this may be my year. Wtih patience and a little time, maybe I can make it happen.
The snow ought to still be fairly good - cold weather and small amounts of sun have kept things from the hard-baked freezing/melting cycle - so I'll have that going for me.
Remember, if you go, that participants must present a valid lift ticket or pass.
Registration will take place from 8:30 a.m. - 11 a.m. on Saturday, Jan.
26 at the Talons tent at the base of the Centennial lift in Beaver Creek Village and also on the mountain at Red Tail Camp.
And don't forget, from Jan. 6-Feb. 15, guests can buy four nights of lodging and four days of skiing and get a fifth night and ski day free starting at $533 per person based on availability and quad occupancy in a two-bedroom condominium.
For more information on The Talons Challenge, call the Beaver Creek Ski and Snowboard School at (800) 475-4543 or (970) 845-5300. For more information on Beaver Creek snow conditions and lodging reservations, call (800) 404-3535 or visit www.beavercreek.com.

Comment on "Talons Challenge set for this Saturday" using the form below