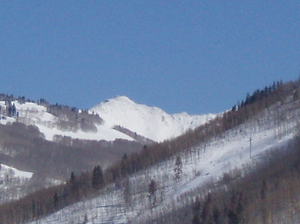 As this view of the Gore Range shows, a heavy dose of blue comes today between even heavier doses of white. About 20 inches or more are expected over the next few days.
By Tom Boyd
Blog Tools
Comments
PermaLink
In Vail, blue skies prevail
But 20 inches – at least – expected by next week
By Tom Boyd
January 31, 2008 — Even a RealVail local has to skip a great ski day from time to time – and for me, today is one of those days.


Yesterday's epic journey through whiteout conditions left me craving for more time on the mountain. There's little doubt that today's two inches is more like six in places like Windows, Genghis, Red Square and Rasputin's, and would have satiated my cravings, but unfortunately for me I'll have to wait until tomorrow to ride the wind buff.


By then, the skies are expected to be full of flurries yet again (see our weather forecast at The Powder Predictor) as Vail prepares for another 20 or so inches of snow, probably more, over the next few days.

For the time being, however, as the picture above illustrates, the skies are blue and the air is cold. The temperatures at RealVail headquarters have yet to hit double digits.


My plan? Log double digit work hours today to earn some time on the mountain tomorrow.


Comment on "In Vail, blue skies prevail" using the form below