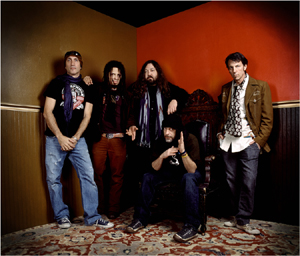 Dave Schools, center, of Widespread Panic, has dubbed his side project "Stockholm Syndrome." The band is slated to play at Check Point Charlie in Vail Feb. 20.
Blog Tools
Comments
PermaLink
Stockholm Syndrome comes to Vail (or, See a show, win a car part III)
By Tom Boyd
February 15, 2008 — Widespread Panic fans will be happy to know that Dave Schools will be coming to Vail next Wednesday as part of the all-new, much-improved lineup for this year's Street Beat concert Series.

Parking is free at the Lionshead or Village structures, and admission is free.

School's band, Stockholm Syndrome, will be playing at Check Point Charlie in the Vail Village next Wednesday. When Schools and acclaimed writer-artist Jerry Joseph decided to collaborate, they initially figured a joint project would be a refreshing change of pace. The resulting product is much more than that: with captivating songs, deep grooves and virtuosic playing, Stockholm Syndrome's sound announces the arrival of an important new band in no uncertain terms.


Locals can register weekly to win a 2008 Volvo C30. Visitors can register for the grand prize Volvo Vail Return Vacation with deluxe accomodations for four.
Check out clips of Stockholm Syndrome by clicking on the vids below:

OK - now for something completely different.


Imagine if we did something like this on bridge street. Cool, right? Check out this video and see if you agree.

Comment on "Stockholm Syndrome comes to Vail (or, See a show, win a car part III)" using the form below