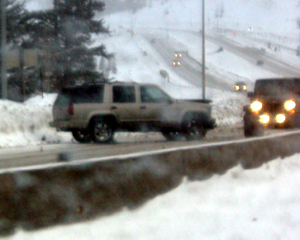 Scenes like this one, shot out my windshield on the way down Vail Pass Feb. 25, are all too common. It seems the biggest cars are always the ones facing the wrong way during a snowstorm. Why is that? Hmmmmm…
By Tom Boyd
Blog Tools
Comments
PermaLink
The six-car slide-out
And a video blog, too...
By Tom Boyd
February 26, 2008 — The pickup truck in front of me had girth, width, heavy metal tool boxes and a look of industrial toughness.
It was also spinning out of control. Wildly out of control. First to the left, where it performed a pirouette off the left-lane guard rail. Then to the right, where centrifugal force whipped the nose around and forced the car across the highway to the right lane. I caught a quick glimpse of two startled passengers. The truck became parallel to the 4-foot-high snowbank at exactly the moment it slammed into it, somehow lifting the car straight up into the air and into the Oreo-cookie-colored snow, upright, just at the moment I drove past.
In front of me, three other cars lay like forgotten relicts of an alpine war, strewn about the right lane. No police yet. A plastic bumper stared up at me from the road, looking eyeless without headlights.
Then, in my rearview, two more cars attempted vehicular ballet. A navy blue Jeep Cherokee spun in slow motion, struggling against the seeming magnetic force of the snowbank but, ever so gently, failed. As the jeep came to a rest perpendicular to the road, another truck arced like a boomerang in the opposite direction and jerked to a stop, unharmed, facing completely backward.
Everyone was OK. Cell phones were already in use. Police were on the way.
Another driver, a woman, had navigated the chaos perfectly, slowly, just in front of the big truck, never losing her grip. Anxious to be clear of other cars I drove past her and saw that she was smiling. Not arrogantly, not self-consciously, but with that way that said: OH MAN that was COOL!
No one was hurt. And I realized that I was smiling, too.


I took a video a few moments later which had a surprise of it's own. Check it out:


2 Comments on "The six-car slide-out"