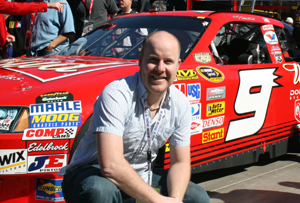 In a sea of more than 140,000 people, I was still able to walk right up to Kasey's car and get close to the action.
Photo by Steve Boyd
Blog Tools
Comments
PermaLink
What do NASCAR and Vail have in common? Kasey Kahne, Bill Elliot, and the Gillett family
And that's just for starters
By Tom Boyd
March 4, 2008 — (Editor's note: to view video from raceday navigate to the bottom of this blog)


LAS VEGAS, Nev. — Something happened to my brain about 30 seconds after we walked into the infield of the Las Vegas Motor Speedway during speed trials for the recent NASCAR weekend. There was kind of a clicking feeling, or a popping noise, like a 50 amp fuse had just blown somewhere along my logic circuits.


Or maybe it was just Vegas. Maybe I had too many energy drinks, too many hands of blackjack, too many rolls at the craps table. But I was also so astounded by what I saw, so amazed by what I heard, and so mystified by what I felt, that I think my brain just overloaded for a second, forced to re-boot in the midst of NASCAR's shock and awe.

Foster Gillett watched the race from atop the pit, where several monitors helped him follow the action and keep tabs on his team.

I was a NASCAR rookie, invited to the speedway as a guest of the Gillett family. The Gillett family came to Vail when George Gillett, Jr., bought Vail mountain a while back, and they've been based there ever since. Their foray into NASCAR racing began last summer, when they negotiated a deal to create Gillett Evernham Motorsports, the team which fields Kasey Kahne, Elliott Sadler, and Patrick Carpentier, among others.
The access the Gilletts afforded me put us right in the middle of the action – to the point where I was getting in the way of pit crews moving tires around the garage area. Just after we arrived, my overwhelmed senses barely registered a loud whistle to my right, and I turned to see Jimmie Johnson's 48 car come rumbling past, not five feet from where I was standing. I climbed atop an 18-wheel hauler and took a look around – astonished to see a 140,000 person grandstand and a track which could swallow the Town of Vail like an alligator on a spring chicken.
As I rumbled through the infield, slowly re-calculating my inner compass, I discovered NASCAR's ties to Vail are even stronger than I suspected. While talking with members of GEM I discovered that Kasey Kahne's favorite place to vacation is Vail, where he stays at the home of legend Bill Elliott. And since I've begun looking into NASCAR and Vail, I've discovered that many of my friends and relatives are fans – especially my older brother, Steve, who came with us on the trip.
NASCAR connections are not to be taken lightly. Not only is the logo-crazed NASCAR scene a marketer's dream, but the business deals which occur in VIP rooms all through the weekend account for a hefty chunk of more than one Fortune 500 company's fortunes. The prize money alone during NASCAR's Vegas weekend totaled somewhere around $6 million.
We were there to root for GEM teams, and were all hoping the Gillett brothers would be celebrating with Kasey Kahne in the victory lane when the race was done. While GEM's Carpentier surprised the field with a 12th –place qualifying lap, Kahne had been ill during speed trials, puking in his helmet twice before retiring to his hotel room (via helicopter, as always) for an I-V and some R&R.
Check out these videos from race day …
From the morning of the race…


Mid-race report…



"My god it's loud…"


Even with a 37th position at the start, Kahne climbed to sixth place at the checkered flag, giving him a fourth place overall in the Cup Series after three races.
Carl Edwards won the race, Dale Earnhardt Jr. was second, followed by Greg Biggle, Kevin Harvick, Jeff Burton and Kahne.
Elliott Sadler was racing well, holding a position in the top 10, until he was flagged for speeding in pit row. After taking the requisite lap through the pits as punishment, he climbed all the way back to finish 12th overall. Carpentier crashed and did not finish.

1 Comment on "What do NASCAR and Vail have in common? Kasey Kahne, Bill Elliot, and the Gillett family"