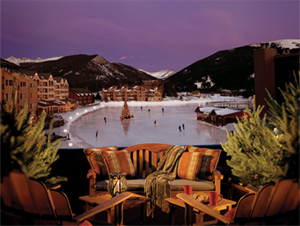 Once in a while it's worth a trip over to Summit County, where a top-notch spa, night skiing, and a stellar concert lineup highlight the next few weeks.
Photo courtesey Vail Resorts
Blog Tools
Comments
PermaLink
Summit County notes
Top quality spa, P-Funk All-stars, night skiing await on the other side of Vail Pass
By Tom Boyd
March 10, 2008 — Unlike our newest blogger, the anonymous "Vail Snob" I'm known to step away from Vail Mountain, the Back Bowls, and Genghis and Chair 21 once in a while, just to see what else is happening in ski country.


And like another of our new bloggers, Jill Alfond I like to give myself a few little "mini-vacations" this time of year, when winter is still long from over and the eyes crave new sights and sounds.
A trip to Mexico is out of the question for me (although "realcabo.com" is sounding like a better and better idea every moment).
Heading over the pass to Summit County, however, is easy as pie, and takes about 20-30 minutes, depending on what part of the county I'm headed to (the DMV office is about 24.5 mins from West Vail, in case you're wondering).
A recent trip to the grand opening of the Spa at Keystone Lodge was one such occasion, and though I'm not much of a spa-goer, my wife is. She's sampled all of Eagle County's best (see our review of top spas here http://www.realvail.com/RealAE/12/Dipping-into-Vail-and-Beaver-Creek-spas.html ), from the Ritz to the Aria, and I must say she's gotten a bit pampered with the quality of our spas around here.
So I was a bit skeptical that Keystone could pull off the kind of spa to rival what we've got on this side of the pass. After only a few minutes at the new spa, however, it became exceedingly clear that Summit County, when it comes to top-tier spas, has finally arrived. I highly recommend the Yanko water massage. Check out their website by clicking here.
A spa trip might make a nice compliment to the whole "Sunsation" concert series going on this April in Copper (or, if you're like me, you'll just skip the spa and head to the P-Funk show).
The Sunsation lineup is as follows:

Saturday, April 5: Susan Tedeschi and De Sol

Sunday, April 6: Pato Banton, Eek-A-Mouse and Topaz

Saturday, April 12: George Clinton and the P-Funk Allstars, Band of Heathens

Sunday, April 13: Matisyahu, Lotus
If you're looking for a reason to head to Summit County before April, try Keystone, where night skiing will be ongoing, from 9 a.m. to 9 p.m., through March 30. Night skiing, especially during the late-winter months, is a one-of-a-kind experience that I highly recommend, especially for families.
OK, so that's a quick roundup of what's going on in Summit County … on my next blog, rest assured, I'll be back to being a "Vail Snob."

Comment on "Summit County notes" using the form below