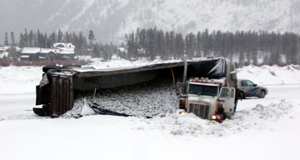 The pile-up near Frisco this past Friday was hands down the largest wreck Iíve ever seen. Video is forthcoming so stay tunedÖ
Tom Boyd
Blog Tools
Comments
PermaLink
Massive car wreck, then great skiing at Snowmass, then itís on to Taos!
By Tom Boyd
March 15, 2008 — March is a good month for road-tripping. Winter is long, the town begins to feel small to us locals, so my cure is to strap the boards to the truck and hit the road.


I'm in Snowmass (and/or Aspen, if you prefer) this weekend. Then it's on to Taos this week, where they will be opening the mountain to snowboarders for the first time ever on March 19.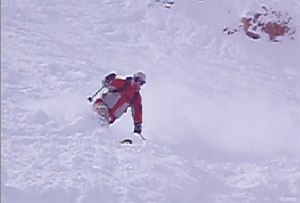 This is a screenshot of the vid I'm going to be posting up here soon... Once through the traffic, I passed right through my olí hometown and put the petal to the metal. Today, and this weekend, Iím skiing Snowmass, where an East Vail Chutes Ėesque area called the Wall is INBOUNDS, making it a heck of a lot safer to ski. Then thereís the cirque, and then thereís Highlands Bowl, and then thereís Ajax. Hmmmm, seems to be a lot of expert skiing over here!

I'd like to revise that last statement to read: "March is a great month for road tripping IF YOU'VE GOT GOOD SNOW TIRES!"
I don't want to become the "car wreck" guy, but it seems every time I hit the road I see all kinds of great carnage footage which requires posting on the net. Videos of the wreck, and of the skiing, are forthcoming, so check back to this blog in a few hours.
I arrived in Snowmass, good tires and all, yesterday. Today the skiing was fantastic, much as it was all over the state. I'll get some vid up for ya to drool over, but in the meantime I've gotta go – it's St. Paddy's Day and I'd hate to miss my first green beer.
Cheers!

Comment on "Massive car wreck, then great skiing at Snowmass, then itís on to Taos!" using the form below