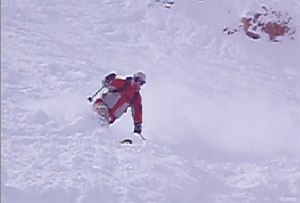 Scroll down and click the play button to check out the oh-so-wimpy line I took down Snowmassí Wall.
Image from video by John Madden
Blog Tools
Comments
PermaLink
Video bloggin' from Snowmass, Taos
By Tom Boyd
March 16, 2008 — Iím not as well-traveled as Chris Anthony, and I'm not half the skier he is, but once in a while I'm known to slap some tunes on the iPod, pack up the ski bag, and hit the road in search of a new skiing experience.
Saturday I was out at Snowmass, part of Aspenís four-mountain alpine mosaic. This Wednesday Taos will open its lifts to snowboarders for the first time in the New Mexico resortís history, and Iíll be there with my tape recorder, getting skier's reactions and boldly, possibly fruitlessly, searching for a snowboarder who can give me quotes in full sentences.
OK, before I get myself in trouble for hackin' on knuckle-draggers, scroll down and check out the vids I'm posting this week. The first is shot from the top of Snowmass, where we see a SPACK-TACKULAR view of Maroon Bells.
In the second video youíll see me heading right for a cliff, then taking the ďpansy routeĒ to skierís right, flopping over a small drop and down toward the camera man. In my defense, I really thought I was on line to hit the big boy, but again, Iím no Chris Anthony, so I missed my line and had to settle for a little-girlie drop. Nonetheless, the snow out in Snowmass was softer than a baby's behind and the terrain steeper than Battle Mountain's grade curve.


This third video is of the big pile-up on I-70 which caused major traffic Eastbound March 14. It's all more evidence that my theory is right: only driver's with a special lisence should be allowed to drive through the mountains during a snowstorm. These amatuers are ruining our ski days!


Comment on "Video bloggin' from Snowmass, Taos" using the form below