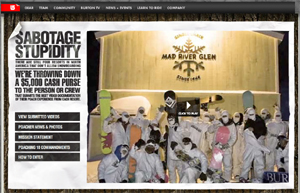 What part of Afghanistan did these guys come from, and how in the hell did they find Mad River Glen?
Blog Tools
Comments
PermaLink
Burton poaching videos: the good, the bad, and the idiotic
By Tom Boyd
March 18, 2008 — Only four resorts in North America still have the "huevos rancheros" to prohibit snowboarding on their terrain: Taos, NM; Deer Valley, Utah; Alta, Utah; and Mad River Glen, Vt.


On Wednesday of this week, Taos will open to snowboarders – and I'll be there to observe the inevitable madness, so stay tuned.
Speaking of huevos, though, the Burton snowboard company showed they can cook AA Large Eggs of their own when they challenged the nation's snowboarders to "poach" these mountains and make videos throughout the winter. The videos are in (and viewable at burton.com/poachers) and the best one will win $5,000.
I spent a large portion of my day watching these vids, and while most are good humor, a few come off as a bit psychotic.
Look, the concept is cool. Revolution and all that. I get it. Freedom for the people. Waving the constitution in the air and fighting for freedom, or whatever.
The Burton website claims the snowboarding ban is against, "The Constitution of the United States of America," and that poaching the mountains is a, "patriotic duty." But strangely, some of the dudes in the videos look strikingly similar to some masked, machete-wielding toolbags we've seen in other grainy, amateur videos.
It's all tongue and cheek, of course … right?
Or at least I hope it is, cuz if these guys want to fight for freedom there's a legitimate war in Afghanistan and I hear they're short-staffed. Looks like they've already got the gear.

1 Comment on "Burton poaching videos: the good, the bad, and the idiotic"