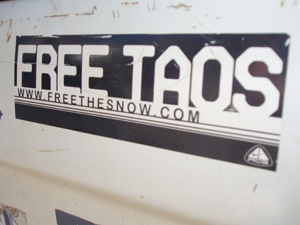 It used to be a statement, now it's a keepsake: a sticker adorns the back of a run-down truck in the parking lot of the Taos Ski Valley parking lot Wednesday, March 19, the day the mountain opened to snowboarders.
By Tom Boyd
Blog Tools
Comments
PermaLink
Snowboarding makes history at Taos
Only three resorts remain which don't allow snowboarding
By Tom Boyd
March 20, 2008 — (Editor's Note: Navigate to the end of this blog to see video of Taos' historic opening to snowboarders).


On March 19, 2008, Steve Romero was on top of the world. He and his friends and family, who all grew up in Taos, were among the first to (legally) ride snowboards at Taos Ski Valley for the first time in its 52-year history.

Romero said he's heard a bit of smack talk, through the years, from fellow Taos residents who don't like what snowboarding stands for - but he's pretty sure their misconceptions will be put to rest.


"People think snowboarders are punks," said Steve Romero. "But, hey, we're homeowners. We've got mortgages."
Romero, along with the other 5.2 million snowboarders in North America, weren't allowed to ride Taos until this past Wednesday, when the resort finally saw the prudence in an inclusionary mindset.


It's been 14 years since a pair of snowboarders from nearby Angel Fire, NM, started up the "Free Taos," movement.

Since then, cries of "Free Taos" have been shouted from lift lines and bar stools for the past 14 years as snowboarders, determined to ride Taos Ski Valley's burly terrain, have pressured the resort to allow them onto the 1,200-acre resort's lifts.

"We were ostracized, we felt like outcasts, we couldn't believe we weren't allowed to ride – let's face it – the best terrain and snowfall in New Mexico," said Michael Johnstone who, along with George Medina, printed up the first "Free Taos" stickers in 1994.
The pair was ecstatic Wednesday morning as they joined thousands of snowriders – skiers and snowboarders alike – who flooded Taos Ski Valley to witness ski history in the making.
Snowboard (or "Snurfer") inventor Sherman Poppen was there, along with others from around the nation who crammed into the narrow chasm where Taos' base area has been wedged for the past 52 years. For the first time in recent memory, the mountain welcomed 4,800 snow riders to its sloped (which is the maximum number of people allowed on the lift by their Forest Service permit).
"This is great," said Ryan Magill of Ft. Collins, who made the trip especially to ride his "old" favorite mountain. "We used to come comer as kids, but then we started snowboarding and couldn't come here anymore."
On his death bed, Ernie Blake, the man who founded Taos Ski Valley in the 1950s, was rumored to have asked that snowboarders never be allowed to ride his mountain. The rumor is untrue, say his grandsons and granddaughters, but nonetheless the rumor stuck because of Taos' hard-nosed attitude.
Now that attitude has lifted, catapulting it into a whole new era. A revamping of the base area and lift improvements are all on the way, say resort officials.
In the meantime, Taos will spend the next two-and-a-half weeks reveling in its newfound brotherhood with snowboarders, offering parties, bands, a beer festival, and a whole lot of New Mexico sunshine.


TAOS SKI VALLEY OPENS TO SNOWBOARDERS!




I screw up the verbage on this one a little bit, but I hiked all the way to the top of Kachina Peak to make it, so you better check it out!


2 Comments on "Snowboarding makes history at Taos"