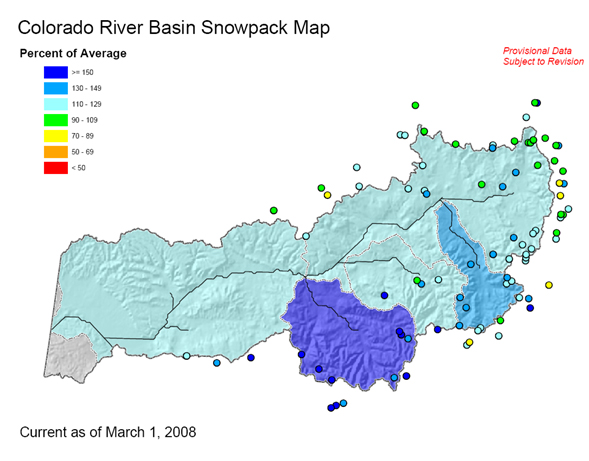 Snowpack as of March 1 is above average throughout the Colorado River Basin according to this map, provided by the Natural Resource Conservation Service.
Courtesey of the Natural Resource Conservation Service
Blog Tools
Comments
PermaLink
Snowpack still high as spring begins in Vail
Vail Film Fest, Taste of Vail set for first weekend in April
By Tom Boyd
March 25, 2008 — As springtime gets under way we're starting to find out what's underneath all that snow, which has covered our lawns and streets throughout the winter.


Answer: more snow.


Snowpack around the state is universally above average, with the Colorado River Basin looking to be 100 percent of average at some stations, and more than 150 percent above average at other stations (see map).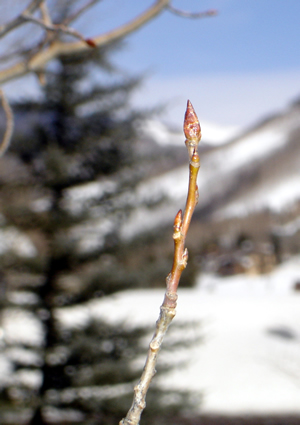 Little buds are beginning to come out on the trees as the huge piles of snow throughout Vail slowly begin to melt. More snow, of course, is bound to come, but in the meantime we can enjoy warmer temps.

All this spells good news for kayakers, rafters, and of course anyone and everyone who needs water (and who doesn't!).
As far as the skiing goes, there's still plenty of good turns to be had, particularly on the groomers in the morning and the sun-exposed slush in the afternoons.
I've always been fond of spring skiing - the warmth and the late starts suit me well.
The trees seem to appreciate this time of year as well, as little buds are starting to make their way upward and outward on all the many aspen trees sprinkled throughout the south-facing portions of the valley.
A few notes on upcoming events: the Taste of Vail and the Vail Film Festival are both set for the first weekend in April. Both of these events are the top of their class. The mountain top picnic is definitely on my list of to-do's for that weekend, and I'm hearing a buzz about a feature film called, "The Collective," along with Mary Stuart Masterson's directorial debut in "Cake Eaters."

Comment on "Snowpack still high as spring begins in Vail" using the form below