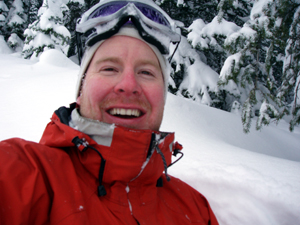 Happy snow days are here again, but hot sun will melt it to mashed potatoes soon enough. April is just around the corner, which means the golf bag, the bike, the paddle, will all begin to compete with the skis to win my attention.
By Tom Boyd
Blog Tools
Comments
PermaLink
April: A time for the outdoorsman's identity crisis
By Tom Boyd
March 30, 2008 — Life ought to be easy over the next few days as a huge, possibly massive spring storm unloads its cargo on our metaphorical docks, meaning it will be easy to look into the garage, bypass the mountain bike, the kayak, the golf bag, and reach once again for those fat powder boards.


By the time April grabs the torch from March and marches on toward summer, the garage-time decision will be much more difficult. If the sunís not out, half the mountain ends up looking like the bleached-white bottom of a dried-up reef. With groomerís the only on-mountain option, the mind begins to wander toward warmer climates Ė Moab, perhaps Ė or anywhere which can accommodate a mountain bike, or a raft, or a kayak, or a few swings of the golf club.
In February, Iím a skier.
In March, that conviction begins to bend, to disintegrate a bit.
By April, classic multiple-personality disorder is in full swing. I stare into the breach and wonder, each day, who am I? A skier? A golfer? Iím not even any good at golf (is anybody?), but you can play it in a short-sleeved shirt, I know that for sure.
Call it a kind of schizophrenia, or a perfusion of confusion, or whatever you like, the point is, itís a sickness I look forward to every year. Itís all the seasons all at once, and that's the way I like it.

Comment on "April: A time for the outdoorsman's identity crisis" using the form below