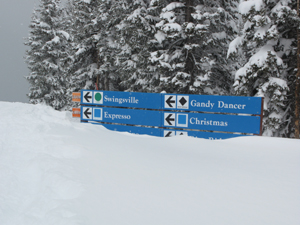 This isnít a mid-winter photograph. This was taken at the top of Vail Mountain April 11, 2008, in the midst of a huge snowstorm. Those signs, by the way, are at least 10 feet in the air in summertime. Not only is there a lot of snow for the final weekend of skiing here, but itís cold enough that the snow is light and fluffy, making for midwinter conditions.
Photo by Tom Boyd
Blog Tools
Comments
PermaLink
'Never before' seen conditions give Vail the best April in its history
By Tom Boyd
April 11, 2008 — Today I talked to a man who has skied Vail since the year it opened, and he told me he'd never seen conditions this good, this fresh, this unbelievable in April.
Sure, the guy happens to be my dad, but I believe him and the evidence is in his favor. There have been big snows late in the season – many of us recall the huge, wet, storm which rolled through in April of 2000 – but there's never, ever, been anything like this.
As the snow continues to fall, Vail is getting close to a record year of snow with about 450 going into today. The 1977-78 season saw more than 500 inches, and there was a big year in 1983-84, but the way snow was tracked over the years has changed. Where once Vail tracked it's snowfall atop the mountain, it now tracks at Mid-Vail, which can make for significantly lower averages.
Anyway, I'll get to the bottom of that one and let you know just where this year stands in the record books.
All agree, however, that conditions have never been this January-esque so late in the year, prompting many to lament that Vail and Beaver Creek are both closing on April 13, this Sunday, when the mountain will remain good for skiing into May.
I highly doubt the lifts will stay open, but if they don't, that's OK by me. I'll just strap the climbing skins to the bottom of my teles and go get some fresh turns on my lonesome, with all the mountain to myself.

Comment on "'Never before' seen conditions give Vail the best April in its history" using the form below