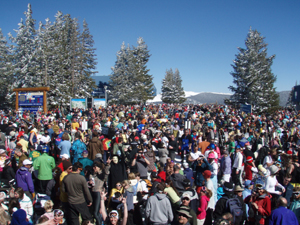 Hudreds gathered atop Vail Mountain April 13 to celebrate one of the best seasons in our history.
Photo by Chris Anthony
Blog Tools
Comments
PermaLink
It was a great season - now I'm ready to move on
By Tom Boyd
April 14, 2008 — I woke up this morning with memories of a great season spinning through my mind. There was the early-season panic when very little snow fell in November Ė followed by a huge storm which invaded during the World Cup ski racing and didnít relent until March. There was that day in early January which was, to my mind, perhaps the best day of skiing Iíve ever had at Vail. There was that one, early-morning run down Forever when I nabbed first tracks and streaked through knee-deep fluff, choking on snow practically the whole way. There was last Friday, when I skied Windows with the Minturn Militia in similar snow and we all wondered how mid-winter conditions could still exist in mid-April. And there was Sunday, when mashed-potato snow and blazing sun finally, finally ruled the day on Vail Mountain.

So now what?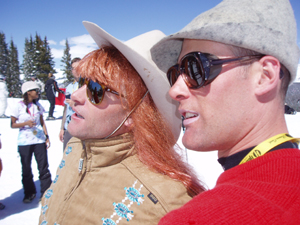 Kevin and Karl Hochtl came to the end-of-season party in style. Karlís wearing his dadís old ski instructor uniform and alpine hat, Kevinís wearing the most gawd-awful one-piece ski suit Iíve ever seen in my life (yes, its suede). These guys were among many who went the extra mile to look pretty at the party.

Yes, there is A-Basin, Loveland and Breckenridge, and Silverton, Wolf Creek, and Aspen Highlands on the weekends.
But I donít think Iím headed that way. The snow has been big this year, and that cuts both ways. Itís made for great skiing, but itís made for many a mucky morning, many a cold hand scraping the truck windshield, and many a post-holing hike through the woods as I tried, desperately, to get the dogs some exercise.
Itís also meant a lot of trips to Denver, where spring has been under way for some time now. Iíve also been down to New Mexico, to Taos, where their ďbigĒ winter totaled around 300 inches of snow (compared to our 450-plus) and where cacti and warm canyons are never far away.
These escapes have whetted my appetite for spring and summer to the point where Iíve become ravenous. Iím ready for kayaking, for rafting, golfing and biking. Even though the snow is great and the conditions on Vail Mountain are potentially prime, the mountain is closed and I donít mind. Iím ready for the transition. Iím ready for shirt-sleeves and warm wind on my face. Iím ready for dry-tops and paddles as we watch this white snow melt into whitewater, and Iím ready for bike helmets, hiking boots, campfires and green, green grass.
Mother Nature will decide just when the Vail Valley makes the transition from winter to spring, and spring to summer. But in my mind, Iím already there.

1 Comment on "It was a great season - now I'm ready to move on"