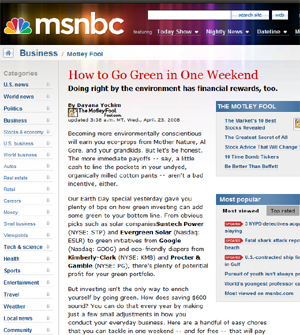 I love this headline: "How to Go Green in One Weekend." What else can we accomplish in one weekend? Become a body builder? Learn martial arts? Get a degree in physics? It's so easy!
Blog Tools
Comments
PermaLink
Save the planet, read a website
By Tom Boyd
April 25, 2008 — Major media groups are clamoring over Earth Day like children fighting over the viscera of a burst piñata. Each major news organization wants to prove that it's more "earthy" than the multi-national corporation next door. This basically involves turning "Earth Day" into "Earth Week," and then using a near-obscene amount of the color green in the various print and television graphic art.
Tips for saving your environmental image: MSNBC, Time Magazine, and others have delivered a barrage of advice this week on how to "save the planet," which, if read aloud in a foreign accent, would assume an uncanny resemblance to the rulebook at a prisoner of war camp: Showah less! Don't dwive anyvhere! Make yor ohn close! Don't flush toilet! No shave vit vater!
If news organizations want to develop a reputation for watching out for Mother Earth, they could do a lot better than recommending that their viewers "buy wedding flowers locally," or "don't stand there with the fridge door open!" They could, for example, produce in-depth coverage of the gas-and-oil industry's recent invasion of Colorado, or maybe give more than 30 seconds to the energy bill which recently passed in U.S. Congress and included higher emissions standards for vehicles. I think MSNBC gave less than a minute to that story, and yet has spent all week bombarding us with tips like, "Read publications online rather than in print." I mean, seriously, every good environmentalist already knows that!
Saving the planet, or saving ourselves? Life in the universe may be rare (or it may not), but scientists agree that once life gets under way on a planet, it's pretty tough to kill off. A few mass extinctions prove the point: 65 million years ago, when an asteroid slammed into the Yucatan peninsula, planet Earth lost the dinosaurs but eventually gained some new hairy apes. Even more spectacular, the "great dying" extinction of 251 million years ago, which killed about 96 percent of all marine life and 70 percent of all land-based life. Dinosaurs arose from the ashes.
Stay with me here: Studies of ground zero around Chernobyl, in the Ukraine, have shown that life is flourishing there despite the continuing high levels of radiation. It seems that, when it comes to habitat, heavy radiation is preferable to a high human population.
So what does it all mean? It means environmentalism is not a movement centered around protecting Mother Earth and all her life forms. It's actually about keeping things the way they are for as long as possible, therefore keeping our species alive and healthy for as long as possible. I bring this up simply because this tenant, which is fundamental to the movement, has been absent from this week's Earth Day (or Earth Week) coverage.
Random fact of the day: This is the first installment of my "random fact of the day," which will linger like an after-dinner mint at the end of my blogs from here on out.
FACT of the day: As late as 1820, the universe was thought by European scientists to be 6,000 years old. It is now thought to be about 15 billion years old (source: factoftheday.co.uk).

2 Comments on "Save the planet, read a website"