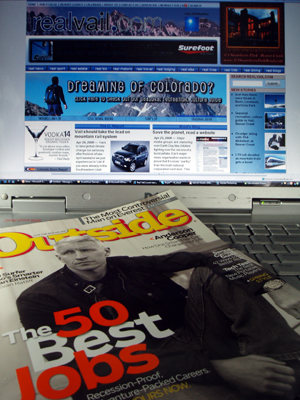 Blogging about blogging makes Outside Magazine's list of "sweet gigs," which suits this blogger fine.
Photo by Tom Boyd
Blog Tools
Comments
PermaLink
Colorado does well in 'Best Places to Work' issue of Outside Magazine
By Tom Boyd
April 28, 2008 — If there were a list of magazines that were obsessive about making lists, Outside Magazine would probably rank No. 1.
Their most recent list? Best jobs and best places to work.
The article in this month's edition of the yuppity publication takes list-making to a new high. I would much rather ridicule the shallow pursuit of list-making, but in this case I feel obliged to give kudos to Outside for ranking "itinerant blogger" as a "sweet gig." Plus, they count proximity to good kayaking as a legitimate perk.
Colorado faired quite well in the recent survey. A big cheers to New Belgium Brewing Company, of Fort Collins, which took top honors in the 250-plus employees category (and this blogger wonders how many cases of Fat Tire were sent to Outside HQ last year.)
Smartwool Corporation took third place in the 50-249 employees category. The warm-gear company has good people, a few whom are friends of mine, and they seem happy, beautiful, and healthy up there in Steamboat.


Natural Habitat Adventures of Boulder took first and Osprey Packs of Cortez, Colorado, took fourth in the 15-49 employees category. Kelty, another pack-maker and camping gear supplier, took 10th in the 15-49 employees category.
Of the remaining winners (which can only be viewed by picking up a copy of the May edition of Outside Magazine), many of the companies have a presence in Colorado, or at least count heavily upon the sportsmen and women of our fair state. For that, I suppose, I am proud.
In the "How I got my sweet gig" category, Colorado's Scott Shipley, an Olympic Kayaker, reaped praise for opening up his own whitewater design company called S20 Design.


Aspen Ski Co. got some attention as the eighth-best place to work for a company of 250-plus employees.
Something tells me Vail Resorts could have won a spot on that list had they only retained their headquarters in Avon which, as of this summer, would be located within bowshot of the Avon whitewater park (disclaimer: the Avon whitewater park has yet to impress this itinerant kayaking blogger, so I'm holding back my opinions on that structure until I give the recent redesign a test later this spring).
Vail didn't win any specific mention, but they did get a nod from Outside earlier this year when they made a list of the top colleges to attend. University of Colorado at Boulder ranked second, in part because, "CU's ski and snowboard club runs a $7 weekend but to Vail, Breckenridge, and Keystone."

 

As an itinerant kayaker and a captive blogger, I wonder if RealVail should embark on a list-making pursuit of our own. Perhaps New Belgium brewery would be prepared to win us over with weekly samples to our office fridge?
Hmmmm, I'll have to pitch my Kelty tent next to the new kayak park, pull a foaming Blue Paddle ale out of my Osprey pack, wiggle my toes in that sweet new pair of Smartwool socks I love so much, and make a list of why I love living in Colorado.
I figure my list would read something like this.
1) Colorado's the best state in the Union.

Comment on "Colorado does well in 'Best Places to Work' issue of Outside Magazine" using the form below