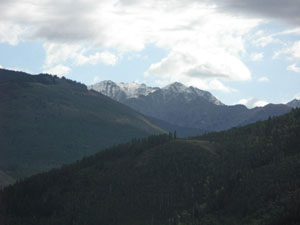 Blog Tools
Comments
PermaLink
August snow dusts peaks
And why I like it that way
By Tom Boyd
August 27, 2007 — The Gore Range picked up its first dusting of snow and yet it's only August – so what does that mean? There's no scientific evidence to link an August dusting with a big winter, but my inner superstitions – mixed with a healthy dose of hope – have me believing we're in for a banner snow year.

All this has me remembering something … the dust of snow has dusted up a bit of a memory … let's see – how does this one go?

Lauren Krantz was a sweet, petite, Southern Belle, the first of many I would meet during my time at University down in Geeee-oor-ja (as it's properly pronounced). She was a book-smart , straight-A student, kind as a pear-tree flower, and well-schooled in the fine art of teaching a Colorado boy (one who had never lived in humid climates) how to make the malodorous effects of mildew disappear from his otherwise unkempt laundry basket.

In her whole life (18 years at the time), little Lauren Krantz had never seen snow – not once. I showed her a picture of my brother kneeling in our front yard after a 12-inch snow storm, and she let out a gasp, amazed at how much snow fell in my home town.

Moments later, when I told her the photo had been taken on July 4th, 1995, I learned that Southern girls have the ability to create incredibly high-pitched squeals which, when encountered up close, can be damaging to the ear. She followed with a cacophony of questions … Are you serious? How do people live? How do we get around? What do we wear? Don't we freeze to death?

No, I told her, in fact we enjoy it. In that photo my brother has the kind of smile on his face that indicates he's one of those people who not only loves Nature's surprises, but who also revels in the chaos which inevitably ensues. The annual Fourth of July parade was awash in the heaven's white confetti, children were sliding down Bridge Street in their summer sandals, the highway had become little more than a parking lot for confused motorists , who checked their calendars and looked up at the sky, wondering if perhaps they'd seen too many episodes of the Twilight Zone. Pictures of Vail's unique Fourth of July celebration were splashed on television screens far and wide, and July 5th was a busy day for hotel booking agents.

The next ski year, as I recall, was quite good.

I missed it, of course, since I was living down in the land of warm rain and proliferated pines, strip malls and water towers painted like peaches. The South was not for me. Even with Lauren's help, I never mastered the art of containing mildew. With no true winter to speak of, everything in Georgia grows seemingly without limit, from bacteria to kudzu to flying cockroaches. Most things bite and everything leaves a rash. Rain falls for days, but almost never snow.

After a few years in Georgia I transferred back to CU, to where a healthy winter keeps biological frenzy in check. Even while in Georgia I lost touch with Lauren rather quickly, as her path led toward the Bayou and mine back toward home, where snow falls anytime, without warning, and I have never missed a ski season since.


Comment on "August snow dusts peaks" using the form below