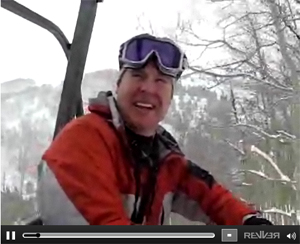 This image is from my latest video blog, which I've also posted below in video form (scroll down to check it out). Internet video viewership has increased 66 percent over the past year nationwide, and a majority of the viewership is coming from small sites like this one - not from giants like YouTube.
Image from video by Tom Boyd
Blog Tools
Comments
PermaLink
When it comes to web video, little guys are the big guys
By Tom Boyd
May 5, 2008 — Charlie Wilson's War, the Golden Compass, and No Country for Old Men – what do these three movies have in common?

The books are better.

So what about all those web videos circulating through the blogosphere? Are they better than the written word? Is a two-minute video better than a 500-word blog?

The jury is still out.

The court of public opinion has yet to weigh in.

The size of the court, however, is growing tremendously. According to an article in today's Rocky Mountain News, the number of videos watched on the internet has grown by 66 percent over the past year. The article quotes comScore, a web research company that has also discovered that YouTube has garnered a mere 35.4 percent of the market.

Sites like RealVail own the rest.

In a media world which has been dominated by Goliaths for the better part of a century, it seems the little guy is once again big. Over the years, as costs increased and margins became sliver-thin, television, radio and newspapers have fallen increasingly under the spell of large conglomerates.

But internet video, and the internet in general, is still largely owned and operated by the little guy.

According to comScore, a full 54.8 percent of the web video market belongs to companies with less than a 0.9 percent share … which means people like you, clicking on video from sites like this, represent more than half the market.

What video, you ask? Well, I don't blame you. Our video is pretty tough to find right now, hidden away among stories and blogs, meant as window dressing to the written word, rather than the other way around.

Part of that will change, soon enough, as we grow our video component over the coming weeks and months, growing and changing along with the tastes of our growing and changing readership.

But the written word will not be forgotten, not here at RealVail and – I am sure – not on the web.

Think of the movies. Two hours – or more – of brilliant cinematography, excellent screenplay adaptation, millions of dollars doled into the capable hands of special effects artists, costume designers, makup artists … none of which do justice to the book, a collection of words placed in careful order by one person, perhaps two, without even the grace of accompanying pictures.

At best, a good movie is complimentary.

As they grow more popular, the good web videos will most likely remain a collection of compliments to the written word for a long while to come.

Click on the play button below to view my most recent video blog, from this past April.


Comment on "When it comes to web video, little guys are the big guys" using the form below