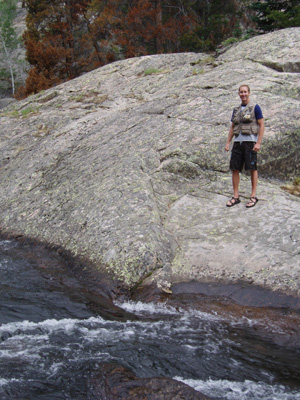 John Buckley takes a break from fishing on Cross Creek.
Photo by Bode Boyd
/realblogs.php
Blog Tools
Comments
PermaLink
Cross Creek
A quick hike thatís a major departure
By Tom Boyd
September 6, 2007 — One of my favorite local hikes is the Cross Creek hike which departs from Tigowan road. Itís fairly easy, very beautiful, and thereís even a bit of fishing up high if I feel like bringing my fly rod along. The dogs love it, too.

See our complete hiking and backpacking guide by clicking here

Cross Creek is one of those hikes thatís easy to get to and yet can make you feel like youíre way out into the wild. On the other hand, itís fairly popular, so youíre sure to run into other people, and other dogs, along the way.


To get there: Follow I-70 to the Minturn exit 171, then follow Highway 24 southeast toward Minturn. Drive through Minturn until you reach the base of Battle Mountain, where Tigowan road (a dirt road) intersects with Highway 24 on the right-hand side. Follow Tigowan road up to the first trailhead (on the right) and park.


Hereís the Forest Service description of the hike, but to really get to know if youíve got to get out with your own to feet and experience it (in all itís glory). Itís definitely one of my favorites.

TRAIL BEGINNING: 8,520 ft 2 miles up Tigiwon Road on the right side.

TRAIL ENDING: 11,820 ft near Treasure Vault Lake at the intersection with Fancy Pass and Missouri Lakes Trails.

LENGTH: 15.5 miles one way (turn around wherever you like to keep the hike short.

HIGHEST ELEVATION: 11 1 820 ft. At the end of the trail near Treasure Vault Lake.

DIFFICULTY: Easy to more difficult.

ELEVATION GAIN: 3,300 feet in 15 miles.

RECOMMENDED SEASON: Mid June to October.

AMOUNT OF USE:
Moderate to high.

USGS MAP(S):
Minturn, Mt. Jackson, Mt. of the Holy Cross
The hike: The trail begins following a ridge and then drops-down to Cross Creek. There is a bridge crossing at mile I in a meadow that is usually filled with wild-flowers. This makes a nice destination point for a short day hike. Or, continue a little further and there is a pond surrounded by rocks that offers a good lunch spot.


Around mile 2, Mount of the Holy Cross is visible from the trail; on the eastern face of the mountain there is a permanent snow field that is in the shape of a cross.

At mile 6, Cross Creek trail intersects Grouse Mountain trail. Reed's Meadow is about 2 miles further and is a long open meadow in a glaciated valley.


On the way to Treasure Vault Lake, short side trips to Harvey Lake and Blodgett Lake offer good fishing and timberline lake scenery.
The last few miles of the trail pass through open meadows with wildflowers and mining relics. There is evidence of mining cabins, ore mills and old mines. The trail follows an old wagon road to Treasure Vault Lake. Large groups use this trail through mid-summer; plan mid week trips to avoid crowds. Use "No TraceĒ camping skills to minimize impact; camp away from meadows and creeks.

Comment on "Cross Creek" using the form below