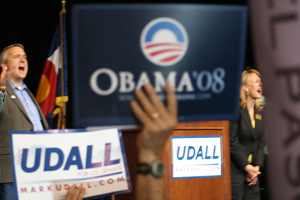 Colorado Governor Bill Ritter, left, and Colorado Lt. Governor Barbara O'Brien, right, take the stage in front of a highly-energetic Democratic State Convention audience May 17 at the World Arena in Colorado Springs. Veterans of the Democratic party said this year's turnout had doubled since the 2004 State Convention, but the unification of the party is still in question.
Photo by Kim Wille
Blog Tools
Comments
PermaLink
McAuliffe story ingnites debate among Clinton, Obama supporters at Colorado State Convention
Mountain counties unite after being snubbed by Boulder at CD2
By Tom Boyd
May 19, 2008 — My recent report from the Colorado Democratic Convention has sparked debate in RealVail's open forum. Clinton supporters are backing Terry McAuliffe's claim that Clinton has the popular vote lead, while Obama supporters are calling for Clinton supporters to back down and unify behind Obama.

Read the comments by clicking HERE, or add your own comments by clicking HERE.


A series of back-and-forth comments have raised ire on both sides of the issue.

"I proudly number myself among the 28% to 40% of Hillary Clinton supporters who would never vote for Obama," wrote Fred Jones.

"Obama supporters have real, substantial and well-supported reasons for considering (Clinton) the far inferior candidate," countered Nancy.

Tom from California wrote that, "McAuliffe is such a lying hack – a professional goalpost mover for the Clinton Campaign."

The debate was sparked after I reported on Terry McAuliffe's comments at the Democratic State Convention that Clinton was well ahead in the popular vote nationwide. McAuliffe, who is Hillary Clinton's campaign chair, found a way to count the vote in Hillary's favor by adding Florida and Michigan's vote, and also subtracting some or all of the caucus states' vote. He has also repeatedly contradicted himself during the campaign.

This seems of little interest to some Clinton supporters, a few of whom are determined to not vote or vote for McCain in this year's general election.

This kind of division is likely good news to Republicans, who host a convention of their own May 31 in Broomfield.

Eagle County shunned by District 2, receives no representation at National Convention

Perhaps more irritating to Eagle County Voters is that they received no representation for District 2 at the National Convention.

Seven delegates were named national delegates during the May 10 CD2 assembly, which includes Eagle County. Six of these delegates are from Boulder, one is from Westminster, and one has lived in Colorado only two years.

Furious with a lack of representation, mountain counties unified behind the leadership of Kim Wille, who founded COMOCO (Colorado Mountain Counties) in an effort to ensure that Colorado's mountain counties have representation at the National Democratic Convention, to be held this August in Denver.

While some national delegates are elected at the Congressional District Assemblies, others are elected at the State Convention.

Wille is among seven COMOCO delegates who are awaiting the results of the May 17 State Convention with hopes that the state's democrats will elect mountain representatives to the National Convention.

The results are expected sometime today or tomorrow.


1 Comment on "McAuliffe story ingnites debate among Clinton, Obama supporters at Colorado State Convention"