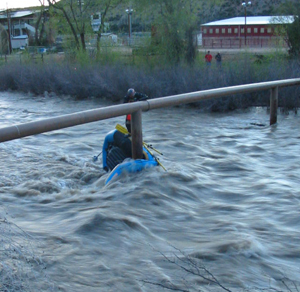 Two women and two dogs had to swim to shore after their raft wrapped around this pylon near Eagle, May 18.
Courtesy Eagle County Sherriff's Office
Blog Tools
Comments
PermaLink
Whitewater could be big for upcoming Teva Mountain Games, June 5-8
By Tom Boyd
May 21, 2008 — Colorado's rivers are expected to rage in all their glory this season, but how big the water gets remains to be seen.

Rivers are already on the rise, and "peak" traditionally falls around June 10, although recent years have seen an earlier peak. The Teva Mountain Games are scheduled for June 5-8, and should benefit from high waters.

The size of the Eagle River is generally gauged by "The Gauge," a 2x6, painted plank bolted into a concrete trestle at the confluence of Gore Creek and the Eagle. The water becomes runnable at about a foot-and-a-half on the Gauge, it gets rockin' around four, and anything above six is heavy duty. In 2003, the waters of Dowd Chute buried the Gauge, which marks water up to eight feet, although the Gauge was visible on down surges of the water. A huge April snowstorm and a hot May made for big water that year, and water was splashing up onto the railroad tracks in places.


This year could be even bigger. The Gauge was reading six feet as of May 21, and had been rising about a foot per day.

Snowpack statewide was at about 122 percent of average in April (see our 2008 rafting preview by clicking HERE. Temperatures have risen considerably in recent days, and a fast melt could make for some of the biggest water the Valley has seen in years.


Rafts and pylons don't mix

Two women and two dogs recently found themselves swimming to safety after their raft wrapped around a pylon near Brooks Lane in Eagle May 18. All four swam to safety, but needed some help getting their raft and possessions out of the water.

The Eagle County Sherriff's Office sent out a press release with the image, above, of the incident, and a reminder that the upcoming big-water season will require safe and sensible decisions from rafters and kayakers.

While the Sherriff's department has the power to close rivers to commercial outfitters and to rafters, kayakers (and the Sherriff) should be reminded that rivers cannot be closed to them, as per a 1980s Colorado Supreme Court Ruling.


Comment on "Whitewater could be big for upcoming Teva Mountain Games, June 5-8 " using the form below