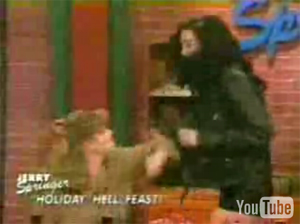 One would think, or at least hope, that Vail is a vacation away from images like this. Still, it makes one wonder...
Blog Tools
Comments
PermaLink
I wanna see Hillary Clinton and Monica Lewinski on Jerry Springer
By Tom Boyd
May 22, 2008 — I'm not exactly clear on how Jerry Springer's "best of" video ended up on our site, but I'm lovin' it. I've been deprived of daytime television drama for the past few years (thankfully) but caught up on years of entertainment with a few minutes of stripper wars, steroid-induced fist-fights, and flying turkey dinners, right here on RealVail, courtesy YouTube.

I'm assuming, or perhaps hoping, that Springer vacations in Vail because he's confident that this is the kind of place he can get away from all that.

Still, I caught myself staring down my long, snobby nose at the low-brow entertainment of Jerry Springer, but only after marveling at 35 minutes of public humiliation from America's blue-collared finest (view here).

In truth, there's only a superficial difference between some of what I see on Jerry Springer and some of what I see in American politics.

If you're the Governor of New York, for example, you might make an excellent guest on Jerry Springer. Yes, some of the tactics are different (sucker punches are replaced by media leaks, and f-bombs are replaced by tearful admissions) but at least there's hookers involved in both.

Which leads me to the question – blue-collar voters are supposed to like Clinton, so wouldn't this show be perfect for her? Can we get Hillary and Bill on J. Springer? I'm picturing the Clintons onstage, looking proper, Hillary in her finest bright blue pantsuit, Bill wearing his trademark grin, when suddenly Jerry introduces Monica…

I'm thinking it might be nice to have a tray of mashed potatoes onstage. You know, to give it that true, blue collar, American Family feeling.


Comment on "I wanna see Hillary Clinton and Monica Lewinski on Jerry Springer" using the form below