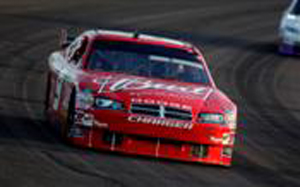 The Gillett's most recent sports investment wasn't looking too great up until a little over a week ago, when Kasey Kahne started notching up victories.
Courtesy www.gillettevernhammotorsports.com
Blog Tools
Comments
PermaLink
Gillett's NASCAR investment paying off as Kahne takes second victory
By Tom Boyd
May 26, 2008 — When George Gillett invests in something, it tends to become a winner.

It happened here, in Vail, when Gillett modernized the resort and added considerably to its international cache in the 1980s and 90s.

It happened in Montreal, when he bought the Habs and then, a year later, saw them end a playoff drought.

Up until May 16, however, Gillett's investment in Gillett Evernham Motorsports wasn't looking so good. His top driver in the NASCAR team, Kasey Kahne, hadn't marked a victory all year. Elliott Sadler hadn't finished in the top 10 since the Daytona 500, and Patrick Carpentier had yet to finish better than 28th.

Then Kahne notched a $1 million payday at the Sprint All-Star race May 17. Then Gillett and his family looked on as Tony Stewart, who was leading this past weekend's Coca-Cola 600 with three laps to go, blew a tire.

Kahne blew past Stewart for his second win in eight days, launching him to 12th in the 2008 standings and raising this season's earnings to $3,116,080.

Sadler is also doing well, having recently picked up two top 10s and raising his earnings to $1,693,120.

I'm not a huge NASCAR fan, but I keep an eye on what's going on with the Gillett's team. I have to say that, whether it's NASCAR or skiing or anything else, these kinds of results were only a matter of time for a Gillett family-owned enterprise.


Comment on "Gillett's NASCAR investment paying off as Kahne takes second victory" using the form below