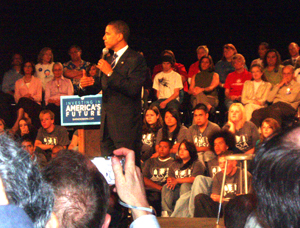 Senator Barack Obama talks to a crowd at Mapleton Expeditionary School for the Arts May 28, where Vail Mountain School graduate Michael Johnston is now principle. Johnston's parents, Paul and Sally, are visible on the right-hand side of the photo.
Photo by Tom Boyd
Blog Tools
Comments
PermaLink
Obama: 'We need a Michael Johnston in every school'
Presidential front-runner praises VMS grad for his work at Mapleton school
By Tom Boyd
May 28, 2008 — Barack Obama held a town-hall-style meeting at the Mapleton Expeditionary School for the Arts (MESA) in Thornton May 28, where Vail Mountain School graduate Michael Johnston is currently principal.

In his opening remarks, Obama congratulated the students of MESA, its faculty, and Johnston specifically.

"I can't tell you how impressed I am with this school, and its students, and obviously it's the young people in particular who deserve the credit, but I think it's fair to say that if it weren't for this outstanding faculty and staff, we would not see so much success here at MESA, Michael Johnston in particular," he said.

When the applause from the small crowd gathered at the school – the smallest Obama has addressed since Iowa, according to one campaign staffer – died down, Obama said that, "We need a Michael Johnston in every school."

Obama then made several references to Johnston, mentioning him by name several times as he discussed his education plan for America, as well as his tour of the school with Johnston and former Colorado governor Roy Romer. All 44 seniors at the school graduated and were accepted into four-year colleges, a goal Johnston set for the school upon taking the reins two years ago.

After discussing drop-out rates and graduation rates across the country, Obama told the MESA seniors, who were gathered with him on the stage, that, "The work you've done shows you don't have to accept that kind of America."

His big-applause line came when he said that his education plan would not rely solely on a, "single, high-stakes standardized test," but he reminded the audience that, "that doesn't mean we won't have a standardized test, it just can't dictate our curriculum."

Throughout the opening remarks and the half-hour QandA session which followed, Obama used MESA as, "an example," to the rest of the nation.

Much of his policy was created with Johnston's help. U.S. News and World Report recently tagged Johnston as one of three top advisors to Obama on education.

MESA was created by disbanding a large, traditional high school and replacing it with smaller school, each with its own focus. MESA's focus on the arts doesn't preclude its students from meeting math and science standards, merely that there are special efforts to allow time for education in the arts.

The school also focuses on heightened interrelations between adults and children.

Obama closed his QandA session by talking with the Mapleton students, asking them what they'd like to see happen in education throughout America.

Small schools like MESA, they agreed, seem to be heading in the right direction.

View a portion of the speech by clicking the "play button" below. This portion shows Obama commending the students at MESA, along with its faculty. The audio is a little tough to hear, but listen closely for his mention of Johnston.



The video below is the remainder of his opening comments:






1 Comment on "Obama: 'We need a Michael Johnston in every school'"