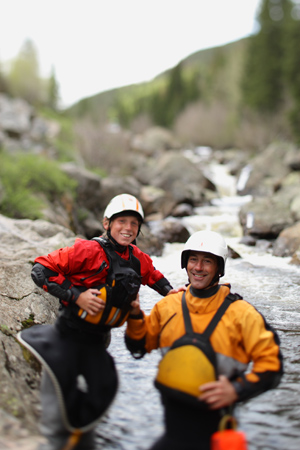 Paddling's living legend, Eric Jackson, and his son Dane at the 2007 Teva Mountain Games Homestake creekin' race.
By Dan Campbell / Teva Mountain Games
Blog Tools
Comments
PermaLink
Vail's Teva Games bring out the best in outdoor community
By Tom Boyd
June 1, 2008 — There's a reason the Teva Mountain Games happen in Vail: this is one of the best places in the world to get out and enjoy each and every sport involved in the Games.

Especially in June (flyfishing excepted).

Climbing, kayaking, rafting, mountain biking, adventure racing, trail running – you name it, we've got some of the best athletes in the world in those sports living right here in our county. Jay Henry, Anita Ortiz, Mike Kloser, Billy Mattison, Daniel Weiland and Brad Ludden come to mind, to name a few.

What I love about the Teva Games is that it attracts pros from around the world – and this year it hosts the first World Cup climbing event on U.S. soil in 20 years.
See all of RealVail's Teva Mountain Games stories and photos at the links below:

Photo gallery by Dan Davis of trekkerphoto.com  
Teva Mountain Games 2008 photo slide show
A toast to the Teva Mountain Games pros and amatuers alike
Tired happy the Teva Mountain Games are coming to a close
How a defunct Vail dam brought luck to the Teva Games
Got stripper skills Teva Mountain Games nightlife poised to deliver for a cause
Vails Teva Games bring out the best in outdoor community
Whitewater could be big for upcoming Teva Mountain Games June 5 8
Teva Mountain Games Green Pledge is a welcome gesture
Teva Mountain Games comes to Vail June 5-8
Slopestyle charity crawl featured tonight as part of the Teva Mountain Games
Town to improve whitewater park
But it's also something that local yokels like myself can participate in, and people from around the state come to town with their boats, their gear, their chalk, their dogs, their fly rods, and they get involved. These sports are small, but taken together they're very much a part of a larger community, which is why 1.4 million people are expected to see the television and web broadcasts of the Games this year.

As the popularity of the Games rises to an all-time high, so will the water this year. I expect the Gauge in Dowd Chute to be completely buried at some point during peak runoff, something that only happens once every few years. In 1984 water covered part of the railroad tracks in Dowd Chute – making for a fast and furious run through our town's prime slice of whitewater.

As a reminder, however, the river can be burly this time of year, and shouldn't be taken lightly. Make sure you're strapped in tight to that pfd and paddling with pros, or at least very experienced folks, if you plan on being in the water anytime around the Games.

It's gonna be big, in more ways than one.


Comment on "Vail's Teva Games bring out the best in outdoor community" using the form below