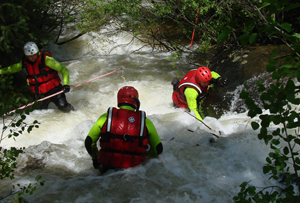 Search and Rescue volunteers search for the body of Mary Brake Sunday, June 22, in Beaver Creek.
Photo courtesy of the Eagle County Sheriff's Office
Blog Tools
Comments
PermaLink
Freedom vs liability likely to surface in case of woman missing at Beaver Creek
By Tom Boyd
June 22, 2008 — We are only just now beginning to feel the shock waves of having lost a friend of the Valley in Mary Brake, a woman who has been missing since Friday evening and is now presumed to have passed away.

The touching letter written by her niece indicates just how much of a loss we have all suffered in losing her, and our hearts go out to her family and friends.

Already, however, the murmurings of a lawsuit have begun to circulate – not from her or her family, but from the public at large, people I've talked to on the street, so to speak. As with the recent deaths in the East Vail Chutes, spectators from the sidelines of these tragedies are very quick to mention legalities the moment they hear the news.

It is, after all, an American condition. Lawsuits are meant to protect us from harm – but very rarely do so. Every time a family sues for damages, on the other hand, they contribute to a restriction on the freedom of other Americans to make choices.

In the Brake case, Vail Resorts has clammed up, as they should in the current climate. Very few who are close to the case, beyond the Sheriff's Office public information officer, are talking. There is fear that this accident, like so many that have happened in our mountains over the years, will result in a lawsuit.

I've worked with horses before, at Piney River Ranch and most years during hunting season. I've ridden many times at many dude ranches, and personally visited the Beaver Creek stables on three occasions. I can say categorically that the BC stables are among the most well-run that I've ever seen. Good wranglers, excellent horses.

But that's not the point. The point is that accidents happen. We are fragile beings. No matter what we do, there is little chance humanity will ever rid itself of sudden disappearances, bodily harm, and deaths.

In the meantime, we here in the mountains have a special love of challenging ourselves, our bodies, our minds, in the natural settings around us. It is always, on some level, dangerous. To be revoked of that privilege is, in my mind, un-American.

As someone once said, the public has a right to kill itself. On our rivers, in our mountains, on our ski slopes and in our skies, we should retain the right to ski, snowboard, kayak, raft, hangglide, rock climb, and ride horses.

For the first-timer, a guide is necessary. If guides are under oppressive liability, then it will become prohibitive for them to guide us anywhere which might be considered dangerous.

We should take a page from the European lawbooks, and be sensible about when to employ tort law.


Comment on "Freedom vs liability likely to surface in case of woman missing at Beaver Creek" using the form below