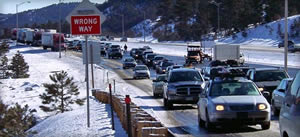 If you build it, they will come … but once they get here, where will they park? I-70 traffic into West Vail last season is an indicator of things to come.
Blog Tools
Comments
PermaLink
A guerilla guide to parking in Vail
By Tom Boyd
June 28, 2008 — The wise voice from the sky once said, "If you build it, they will come."

What he didn't say was, "Once they come, you will have to find parking for them all."

At a recent Town Hall meeting Vail Mayor Dick Cleveland said he and the Vail Town Council have made parking a top priority for at least the next two years.

Which means Vail will have a parking problem for at least two more years. Yes, a few short-term solutions are in the making (via a citizen's panel), but there's no way we're going to build the massive parking structure to match our massive new developments anytime soon. Not only do we have huge, Vegas-esque developments like Arrabelle installed (or installing) into our town, we've also got Vail Resorts' Epic Pass plans, which ought to take care of the "they will come," part of the equation.

So, how do we find parking for them all? More spaces may come in West Vail (180), the Frontage Road (35-60), Avon (100), or the Forest Service headquarters at Dowd Junction (50-75), but these efforts will do little to match the ever-increasing popularity of our hyper-popular town. Let's face it: Vail's parking difficulties are about to get worse.

But hold fast people! Don't let this news get you down! Don't succumb to the fool's errand of complaining to town council and blaming everyone else – but yourself – for the problems at hand. All in all, parking is a good problem to have. It means people like to be here, locals and visitors alike, and therefore our business will be full, our cash registers chiming, our credit cards swiping, and capitalism will be alive and well in our fair town. Whining about parking will only come off making you sound like a…, well, like a whiner (of which we are not in short supply, so please don't add to the surplus).

As a local, visitor, or RealVail reader, you must empower yourself. You must find the way to round the enemy's flank, slip through his front lines, or otherwise outwit all others in the war for those precious, car-sized slices of real estate inside Vail Village.

With that in mind, check out the guerilla guide to parking in Vail, and commit these truisms to heart:

1) Parking will only be a nightmare on powder days. Yes, that was 48 times last year. Got a problem? See above paragraph on whining.

2) Parking will only be a problem when you've got 400 construction workers per day using the lots. Want to build a better town? You need workers to do it. See above paragraph on whining.

3) Vail has one of the best bus systems in the world, and certainly in North America. I've caught many a first chair by catching the bus first.

4) Long-time locals, YOU TOO CAN RIDE THE BUS! Hard to believe, but the bus is not reserved solely for lift ops and Aussies. The bus is an equal-opportunity conveyer which runs from Gypsum to East Vail at pre-determined times, daily. Given traffic and road conditions, riding the bus is only slightly slower than driving your SUV to town by yourself, it's half the hassle, and you can après ski to your heart's content and not have to sweat a DUI. The town did a study of who parks on the Frontage Road and guess what? Those cars are mostly downvalley locals.

5) Know your neighbor, and definitely know if your neighbor has slopeside property, or a parking pass, or a parking space in town. There's no greater waste than an empty Golden Peak parking space left empty by a second home owner who absent-mindedly misses up on the opportunity to provide his favorite local with a parking pas while he/she is out of town.

6) Know your town: Every local has a system of getting onto the mountain in the best possible way. Parking in small West Vail or East Vail lots and riding the bus is probably the best way to get 'er done. The next best way is to stay in touch with what's happening in Vail … that is to say, keep reading RealVail and you'll be A-OK.

In the meantime, enjoy the free summer parking in the Village (because it may not last).

Comment on "A guerilla guide to parking in Vail" using the form below