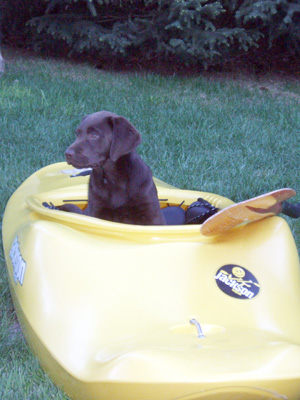 Blog Tools
Comments
PermaLink
My dog wants to go kayaking
And frankly, so do I … but where to go?
By Tom Boyd
September 12, 2007 — A peek at Gore Creek yesterday was all I needed to know about local rivers – the water is down … way down. This doesn't mean there isn't still some good kayaking or rafting around, it's just a bit farther away from Vail than during the heyday of runoff.


CLASS I and II: For a first-timer, like my dog Bode at right, the best bet is the Upper Colorado River. It's the place where I learned to paddle and still one of my favorite places to get out on the river. From Vail follow I-70 West to the Wolcott exit, turn right onto Highway 131 toward Steamboat, and drive to State Bridge. Turn right onto the Trough Road and follow that northeast to Rancho del Rio … a place where the water is always nice and the year is always 1969. Use that as your take-out or put in, and enjoy mellow waters with only one or two fun rapids.


CLASS V: If you want to see the full force of the Colorado River, head on further upstream from Rancho, past Pump House, and on to the Gore Canyon put-in. Most the people who have the ability to navigate these waters already know where they are, but if you're interested in going a few rounds with the heavyweights then look up one of the guide services at the bottom of this blog and let 'em know you're ready to get tossed into the ring.


CLASS III: Shoshone in Glenwood Canyon is the "goldilocks" run in this area … it's not to mellow, it's not too huge, and for most people it's juuuuust right. For a playboating kayaker there's plenty of fun to be had, and for rafters it's the most popular local run (especially this time of year). To get there follow I-70 west into Glenwood Canyon and turn off at the Grizzly Creek exit … that's the take-out. To get to the put-in point the wheels back east and drive a couple of miles back to the Shoshone power plant exit. Interesting side note: The Shoshone power plant water rights are among the two most senior rights in the state, which means the plant owner wield quite a bit of power in our dry-as-bone state.


For guide information contact:


Timberline Tours

800.831.1414

www.timberlinetours.com



Nova Guides

888-949-NOVA

www.novaguides.com


Lakota Guides

866-724-8340

www.lakotaguides.com


Comment on "My dog wants to go kayaking" using the form below