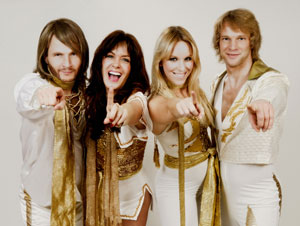 Abba tribute band "Arrival" kicks off their show at 8 p.m. at the Vilar Center in Beaver Creek July 23. Tickets are $58.
vilarpac.org
Blog Tools
Comments
PermaLink
Mamma Mia! Abba tribute band's appearance at Vilar Center is right on time
By Tom Boyd
July 17, 2008 — Here's my prediction of the day: the movie Mamma Mia! is going to knock the designer socks off "Sex and the City."

Just to be clear, the closest I got to seeing Sex and the City was a night drinking beer and playing guitar at the Main Street Grill across from the Edwards movie theater. But if I could choose between the après S&C crowd and the après MM crowd, I'd take the Mamma Mia crowd hands down. For that matter, I'd take the Dancing Queen over shoe-shopping, Amanda Seyfried over Sarah Jessica Parker, and the indomitable Meryl Streep over pretty much all comers.

I may also take the Vilar Center next Wednesday over going to the movies – or maybe I'll do both. The costumes and wigs alone will make it worth a trip to see "The Music of Abba" (featuring the tribute band Arrival), not to mention the dancing, the sinfully irresistible pop tunes, and the freaky physical resemblance Arrival has to some of the original Abba band members.

Mamma Mia! is in theaters July 18. The Arrival show gets under way at 8 p.m. at Beaver Creek's chic auditorium July 23, and tickets are $58 … visit www.vilarpac.org for information and/or to buy tickets.


Comment on "Mamma Mia! Abba tribute band's appearance at Vilar Center is right on time" using the form below