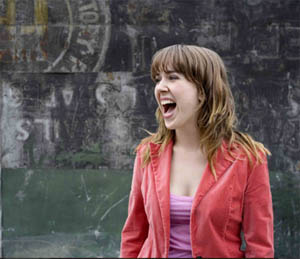 Serena Ryder brings her rich voice to the Vilar Center tonight at 8 p.m. Tickets are available and $18.
Blog Tools
Comments
PermaLink
Fresh from the Mile High Music Festival, Serena Ryder comes to town tonight
By Tom Boyd
July 21, 2008 — I once missed front row seats to a Tom Petty show because I was trying to catch the end of a football game, and I've never lived it down (which, perhaps, I never should).

Then, this past weekend, I missed the 57-year-old rocker yet again this weekend, along with Dave Matthews (although I saw him front row at the Georgia Theater in 1993 so I don't feel too bad there), Jon Mayer (who I can't stand anyway), Michael Franti and Spearhead (possibly the best band on tour right now), the Black Crowes (caught 'em in Telluride and they were much better than I expected), Flogging Molly (good for drinking Jameson to, among other things), and about 50 other top acts.

Best show of 2008, for me personally, remains Mike Doughty at the Fox in Boulder – or perhaps The Hold Steady in their home turf in Boston. And, although both bands are par excellence, I'm still thinking I can outdo myself.

I'm not saying it'll happen tonight, but you never know: Serena Ryder, who played the MHMF this past weekend, comes to town tonight for a show at the Vilar Performing Arts Center. The 23-year-old has been given lavish praise by critics for her preternatural maturity and a deep, soothing voice which sounds, if you'll follow me here, like some kind of hybrid, composite voice built from the historical cannons of country music.

Don't expect any ultra-twangy, bad-greeting-card Country out of Ryder though. The Juno Award winner (it's like the Canadian Grammy) has a sound all her own. The show starts at 8, and tickets are $18 and still available at vilarpac.org.

Here's some vid by way of a preview:





1 Comment on "Fresh from the Mile High Music Festival, Serena Ryder comes to town tonight"