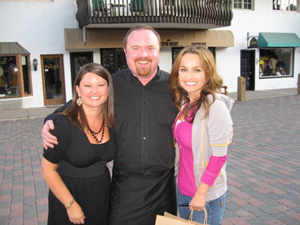 Food Network star Giada De Laurentiis visited Sweet Basil as part of a Rocky Mountain segment expected to air on in late October early November. The charming De Laurentiis has won over the viewing audience with her show "Everyday Italian." She is pictured here with Sweet Basil's Alisha Quinn (hostess) and Matt Morgan (managing partner).
Jana Morgan, Sweet Basil
Blog Tools
Comments
PermaLink
Giada De Laurentiis - how sweet!
TV favorite visits Sweet Basil, Beaver Creek
By Tom Boyd
September 13, 2007 — Giada De Laurentiis, one of televisions sweetest stars, brought her addictive personality to town Tuesday, Sept. 11, when she visited Vail's famed Sweet Basil restaurant to film an upcoming episode of her wildly popular "Giada's Weekend Getaways." She is also the host of the successful "Everyday Italian" show.

De Laurentiis also visited Beano's Cabin during her filming stint, all as part of a broader episode to be entitled "Vail/Beaver Creek" or "Rocky Mountain" that will air sometime in late October or early November.

Sweet Basil marketing director Jana Morgan received a call six weeks ago from one of the producers of the show stating Basil was "in the running" to be in Giada's Weekend Getaway Rocky Mountain edition. The producers began with a list of 20 Colorado restaurants that had great reputations, interesting food and name recognition. After numerous meetings, they narrowed the field down to just a few.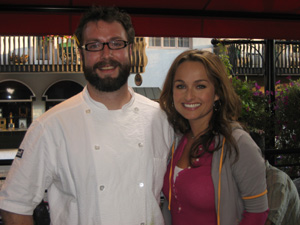 De Laurentiis took a moment to pose with Sweet Basil's Paul Anders as part of her Vail/Beaver Creek tour, which also included a visit to Beano's Cabin on Beaver Creek.

"When the decision was finally made that Sweet Basil was selected, we were thrilled!" Morgan said. "The Food Network has a very loyal fan base of foodies and it's great to get national recognition."

The shoot at Sweet Basil was from 4:30 to 7 p.m. Tuesday and included 18 "extras" who drank watermelon mojitos, imported beer, martinis, and red and white wine. De Laurentiis selected the trout for her entree but in between shots she noshed on truffle fries and Vietnamese spring rolls, prepared by Sweet Basil executive Chef Paul Anders and Chef de Cuisine Brian Brouillard.
Giada's Weekend Getway airs on Food Network (Comcast Channel 55 here in Vail) on Tuesday nights at 8:30 p.m. MST. The show re-airs 5-8 times throughout the week and weekend at various times. Info on the show and De Laurentiis can be found at www.foodnetwork.com as well as www.giadadelaurentiis.com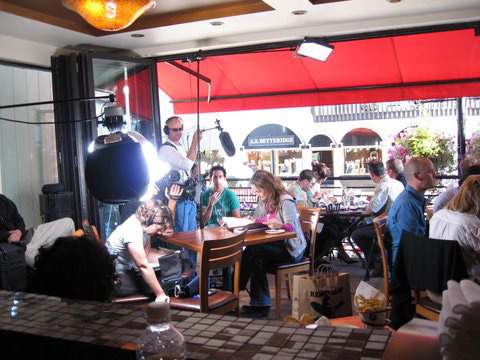 Being an extra on this episode came with the benefit of enjoying watermelon mojitos, imported beer, martinis, wine and a fantastic menu.

The Giada Special Menu for Sweet Basil


Salt Roasted Beet Salad

Watercress, Avocado, Citrus,

Champagne Orange Glaze


Crispy Shrimp and Calamari

Fennel, Oyster Mushrooms, Jalapeños,

Cilantro Gremolata, Sweet and Spicy Dipping Sauce


Colorado Organic Tomato Salad

Borden Farm's Lemon Cucumbers, Local Walla Walla Onions,

French Feta, Picholine Olives, Sweet Basil and Oregano Vinaigrette


Vietnamese Shrimp Spring Rolls

Grilled Asparagus, Mango, Cilantro, Mint,

White Soy and Lime Sauce


Colorado Lamb Sirloin Skewers

Ginger, Basil and Tomato Relish,

Radish Sprouts, Chimichurri Sauce


Grilled Golden Tomato Gazpacho

Cucumber Sorbet, Torn Mint Leaves


White Truffle Parmesan Fries


Herb Grilled Rainbow Trout

Zucchini-Tomato Salsa, Arugula Puree,

Sautéed Gnocchi, Brown Butter


Roasted Eggplant Ravioli

Shaved Sweet Corn, Grilled Onions, Wild Mushrooms,

Roasted Tomato Butter


Shaved Niman Ranch Pork Sandwich

Jerk Spice, Mango Chutney, Basil Jalapeno Puree,

Pickled Watermelon, Gaufrette Potato Chips


Roasted Leg of Lamb Salad

Arugula and Trevisano Lettuces, Goat Cheese, Chickpeas,

Cucumber, Verjus Marinated Tomatoes, Summer Herb Dressing


Executive Chef: Paul Anders

Chef de Cuisine: Brian Brouillard


Comment on "Giada De Laurentiis - how sweet!" using the form below