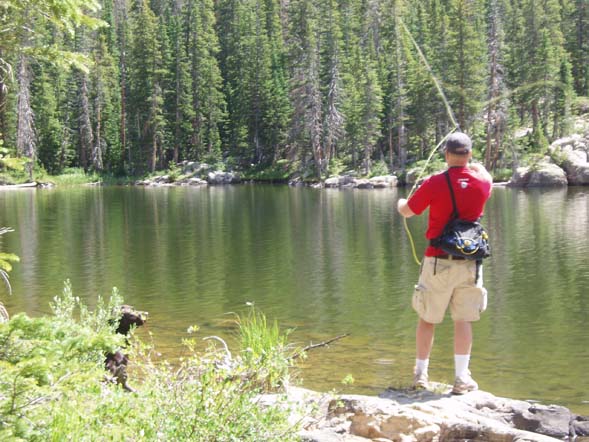 To have an entire high lake to yourself in the Homestake area, you've got to be willing to bushwack a bit, and climb a bit more.
Photo by Renee Boyd
Blog Tools
Comments
PermaLink
Lost and not lost at Lost Lake
By Tom Boyd
August 3, 2008 — I feel like July let me down this year. We had such big plans. But life became a blur. It's like I never saw July, never got to know it ins-and-outs, its idiosyncrasies, its heat waves and its doleful rains. Its fireworks seem so far off that I can't tell them apart from other fireworks and other years.

Up on the wall, my calandar still thinks its July, and in my head I do, too.

So I've decided I'm not moving on just yet. Even when I saw wildflowers popping out of the candied high-mountain landscape like some kind of Willy Wonka popcorn, I attributed it all to July. "July is such a great month for wildflowers," I said as we ascended toward the summit of Homestake Peak, slightly inebriated by a few thousand feet of backpack-laden vertical, and my wife agreed.

Either that or she didn't hear me, which is just as likely, because all weekend long I was half muttering things to myself, half to her, as we trekked a highwire route above treeline from the end of 7501 road to Lost Lakes, hoping to find trout fish and quietude, even isolation.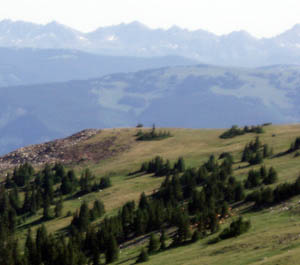 The view from Homestake Peak's shoulder, which includes a few brown-and-gray, quadrupedal animals visible on the bottom right.

I knew the trout part would be the easier of the two. They abound in most high lakes ever since the Division of Wildlife ingeniously dropped them from airplanes into the lakes in the 1940s, or delivered them in mule trains to the same end. The other part, finding isolation, even above 10,000 feet, can be a bit more difficult. There are 54 peaks which you can basically count out of the solace game these days, all because we refused to convert to the metric system in the 1960s (whatever happened to that?) and everyone wants to visit mountains marked more than 14,000 feet above sea level.

While I love a 14er as much as anyone (the last one I attempted left me with lovely memories and a week of muscle spasms in my calves), I also love to pick and choose which fish I want to catch from a lake which I have entirely to myself. I'm also a big fan of arriving at the tops of peaks and allowing your own thoughts and feelings to define the moment, rather than the announced thoughts and feelings of some group of strangers standing right next to you.

So we walked the tightrope line this weekend, veering wide of the quasi-existent trail most of the time and taking a ridgeline route to the uppermost Lost Lake. They're called the Lost Lakes, I gather, because you're probably going to get lost on the way to and from them – especially if you're counting on the trail, rather than your own route-finding, to get you there. Game trails pounded into hillsides by hundreds of elk can make backpackers feel like their well on their way in the right direction when, suddenly, the trail peters out and there is little before you but dark, dark fallen timbers in one direction and highly exposed, boulder-strewn ridgelines in the other.


My half-mutterings seemed to reach their apogee whenever we reached the end of another labyrinthine disappearing game trail, and the general theme was along the lines of "trails are for wussies" and "all the best bushwhack."

Don't get me wrong. We all need the trail to some extent. There is great wisdom in following in the footsteps of those who have come before you, especially when your ankles are near-splintered from lugging a pack across sidehill for three hours. And human beings are having plenty of impact on the wilderness without all of us wandering around aimlessly out there day after day, crushing all forms of flora beneath our boots as we go.

But just as all weekends are not made for chatting it up with newfound friends atop 14ers, not are all July's are meant for sheeping along some pre-packed, ready-made trail. In fact, some July's are meant for forging your own way, marking your route with memorized landmarks, picking and choosing your way based on the push and pull of the terrain, the demands of thunder, and the vector calculated by the sum total of your own conflicting desires. We made our way following ancient regulations: dip low when stormclouds gather and come up high, get your bearings, when the sun shines.

On this trip, this weekend, were fortunate enough to meet our loosely defined "goals." We got where we wanted to go, we caught a lot of fish, we ascended our peak, and we even arrived directly at the parked truck on our first try – and well before the lightning reached our neighborhood. We did so without really ever truly being lost, but also without ever really knowing exactly where we were. Sometimes we went where the way seemed more clear, even if it was the wrong direction. Sometimes we let the dog pick the route. All the same, we were almost always where we wanted to be, which was wherever we decided to go.

And I'm giving that weekend to July because I miss it … or, I missed it. It seems I'm always moving events around on the calendar to match up with the days. This time I'm moving the days around to match the events.

So, if you'll grant me that, then click on the play button below to check out some video of the view from Homestake Peak on Sunday, July 31, 2008.




Comment on "Lost and not lost at Lost Lake" using the form below