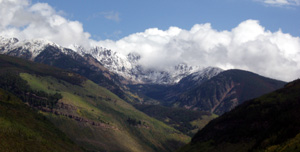 A view of the gore range from halfway up Vail Mountain. Despite the ruckus created by wild weather, life in the outdoors still, as always, leaves me with a feeling of peace.
Tom Boyd
Blog Tools
Comments
PermaLink
Out in the storm
By Tom Boyd
September 17, 2007 — In the morning I was garbed in my warmest camping clothes, huddled around the campfire with a mug of hot coffee cupped in both hands, rain and hail pounding frenetic drumbeats on my jacket's hood. By 10 oíclock I was sweating it out at 11,400 feet, stripped down to a cotton T-shirt and wondering where Iíd put the sunscreen.

These are the fluctuations of life in the margins between stolid winter and stable summer. The transition from the comforts of summer to the Spartan setting of winter is a time of rapid change and uncertainty.

Itís also the time of harvest, when berries of all kinds are there for the picking, mushrooms are plentiful, Colorado peaches are fresh and juicy, and for those who hunt, itís open season on elk, deer, and grouse. Say what you wish, but this remains true: somehow a warm stew tastes better when snow is visible out the window.

The wild weather (snow, hail, rain, blinding sun) made for an interesting camping trip this weekend. My father and I were up along the borders of the Holy Cross Wilderness, where nature rules supreme and the comforts (and stresses) of modern living were hours away.

Overnight a snowstorm rumbled through the darkness, clashing with the mountains and unloading snow above 10,500 feet, and heavy rain below. Lightning and thunder ripped me from slumber over and over again. One bolt struck less than a mile away, exploding an aging lodgepole into millions of little toothpicks.

Meadows were dusty-dry by afternoon again and upon my return to the valley floor I witnessed the parting of clouds from the Gore Range, revealing snowcapped peaks. It was the second high country snow of this season, and one made even more beautiful by the yellowing leaves below. How is it, then, that through all the chaos created by the surrounding climate, I departed from the wilderness with a strong feeling of peace?

Comment on "Out in the storm" using the form below