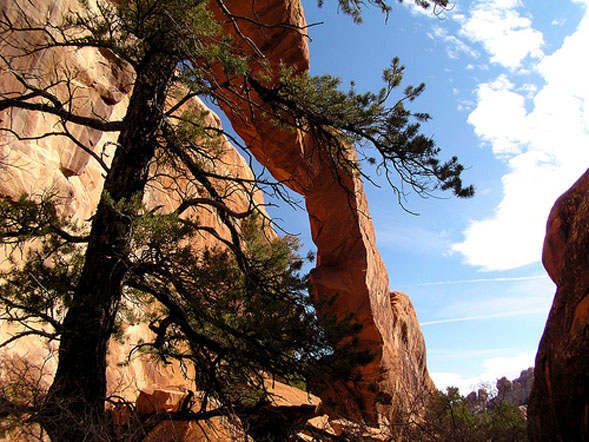 The most recent crumbling arch Wall Arch in Arches National Park which, according to the Associated Press, died of natural causes on August fourth or fifth, 2008.
flickr.com
Blog Tools
Comments
PermaLink
Time, erosion, destroy Wall Arch in Arches National Park
By Tom Boyd
August 11, 2008 — On the human time scale an arch seems near immortal, but they are far from it, and once in a long while humanity will observe the passing of one of Utah's thousands of sublime archways. The most recent was the loss of Wall Arch in Arches National Park which, according to the Associated Press, died of natural causes on August fourth or fifth, 2008.

No one knows the exact moment when the stresses of wind and rain, sand against sand, finally became too much for the multi-ton slabs of rock which held one another up at one of the Park's most well-photographed monuments, because no one was there to see it. The falling boulders smashed onto the trail below, releasing a small tremor and audible boom unfelt and unheard by humans, though it likely sent a few desert pocket mice bolting toward their holes in a hurry.

The seismic waves certainly didn't reach as far as Vail, Colorado, but the emotional shockwave of discovering this news certainly rippled through me, as I think it would for any of us who make the annual (or multi-annual) pilgrimage to the red desert across the Utah border.

On the other hand, I'm not sure exactly why I felt a stirring of grief at hearing about the loss of what, on logical examination, ends up being the inevitable re-arrangement of sedimentary particles, nothing more than a rockslide. Surely the surly Edward Abbey, who guarded the park's dirt-road entrance in the 1950s wile writing his epic "Desert Solitaire," would scorn my anthropomorphizing of nature's wonders, if that is indeed what I'm doing. And no doubt an old college acquaintance named Seth would be deeply puzzled at my sense of loss; Seth being the man who, when we arrived at Delicate Arch after a short hike, pronounced the memorable utterance: "You mean we walked all the way up here to see this thing when there are rocks we can DRIVE to???"

On the remainder of that particular trip, Seth and his pals opted for the bowling alley while I took another group on a class I kayak trip on the nearby Colorado river (I ended up half-naked and stranded in the middle of the highway, kayak paddle in hand, accidentally mooning a truck that ended up belonging to a weed smuggler – but that's a story for another time). Anyway, as Seth made clear, the Arches aren't for everyone, nor is the desert. In the frying-pan heat of summertime, or the bitter chill of winter, the landscape is cruel and labyrinthine, lacking even the most fundamental of human needs. Yet one of my most memorable trips of all time was walking through an empty Arches covered in inches of blank, white snow, with a childhood friend named Ingrid, our noses white with near frostbite, exploring miles of sandstone passageways so narrow we were forced to walk in single file. Even in springtime the weather can be harsh, the wind so powerful as to blow tents like tumbleweeds toward the horizon or, as another friend learned the hard way, over 1,000-foot drops into near-inaccessible box canyons.

I would love to have time to scroll through my memories of time spent near, in, and around Arches, to conjure up the images from a teenage trip when rain fell in sheets, filling mountain pools and creating canyons full of waterfalls so steep, so surreal, that we walked soaking through the night simply to witness the Shangri-La formed when the rare, big rain comes through Moab. Or maybe I could relive memories from the many trips through Westwater and the carnage of Skull Rapid, or downstream trips to Spanish Bottom, Cateract, and finally to Lake Powell.

But there isn't room here, and there likely isn't room in a lifetime to give proper storytelling justice to all the many memories that almost anyone who lives out West is likely to have from voyages out to that mystical, maybe even sacred part of the American landscape. There just isn't time.

And time, now that I think about it, is probably why I felt a surge of loss at the crumbling of another arch, the first since a chunk of Landscape Arch fell away in 1991. It's not because I'll miss Wall Arch, to which I can tie no firm memory, or because I'll never get to see it – because I'm pretty sure I have. It's not even for its rarity, because thousands of other arches fill the canyonlands beyond number and many more are undergoing their epoch-long creation as we speak.

As Abbey put it once: "Men come and go, cities rise and fall, whole civilizations appear and disappear. The Earth remains, slightly modified." Thinking of that, I come to the conclusion that the shudder which ran through me on hearing Wall Arch's fate was purely egocentric, animalistic, a primal recognition that the big, dark, second hand on nature's geologic clock had somehow taken a significant tick forward, a big, booming tick which emanated silently outward from the epicenter of that falling archway, cold and indefatigable, sending me and all my desert memories one seismic step closer to dust.


6 Comments on "Time, erosion, destroy Wall Arch in Arches National Park"