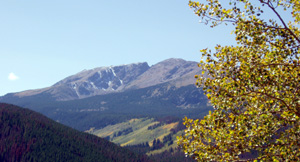 Blog Tools
Comments
PermaLink
Highway 24 makes for lyrical autumn drive
By Tom Boyd
September 21, 2007 — We know the old song about old Route 66, and Dylan's Highway 61 Revisited, and of course the John Denver classic "Country Roads." But what about our own Highway 24? Of all the roads I've traveled, none is more deserving of a good song.


The windy mountain highway is at its peak this time of year. The aspen leaves are bursting with color, and once in a while the barren pinnacles of Notch Mountain and Mount of the Holy Cross, among others, are visible in the background.


And of course, there's the abandoned town of Gilman, which somehow fits atop an impossibly steep series of cliffs and chutes. The last residents of the old mining town were made to leave in 1984, some say because the water was bad, some say geologists were worried the entire town might slide off the cliffs and down into the Eagle River far below.


The Highway also passes historic Camp Hale, which was the training ground for the legendary 10th Mountain Division during WWII. Destroyed by mandate after the war, the remains of various structures are still visible there.


A drive along this Highway is the perfect way to make a trip to – or from – the Front Range, a bit more lyrical. There is a ghostly feeling left behind by places long abandoned, by mountains austere and bare in the background, and the cool breeze blowing through the aspen leaves which leaves me feeling … ah … poetic? Verbose? Maudlin? All three?


Anyway, to get there from Vail travel west on I-70 to the Minturn exit. Turn west (southeast) onto Highway 24 and follow the Highway all the way to Leadville (about 30-40 mins). From there follow Highway 71 to Copper Mountain, or drive through Leadville and to Buena Vista.



Comment on "Highway 24 makes for lyrical autumn drive" using the form below